In a year of pandemic and crisis, people still relied on the delivery of essential goods, perhaps even more than before. See how BNSF answered the call to operate safely, serve our customers, protect our environment and value our people and communities.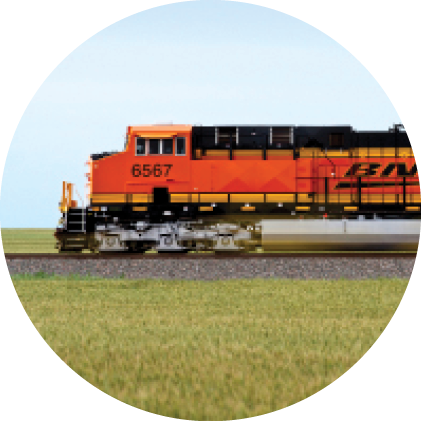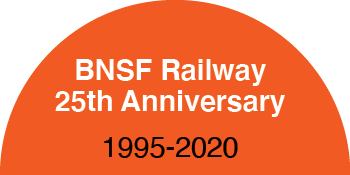 In 2020 we celebrated the 25th anniversary of the 1995 merger between Burlington Northern Railroad and the Atchison, Topeka and Santa Fe Railway, creating BNSF Railway, one of the world's largest freight rail networks and a vital link in the U.S. and global supply chain.
Click here to read our Rail Talk story.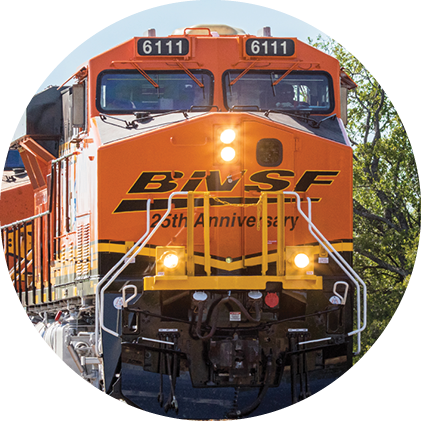 A Message from KATIE FARMER
2020 was a year like no other. As a nation and across the globe, we faced a pandemic that turned our daily lives upside down. In spite of the extraordinary challenges, I am extremely proud of the men and women of BNSF who never stopped Answering the Call to fulfill our responsibilities to our customers, the communities we serve, our nation and the global supply chain.
From the pandemic's start, we focused on protecting the health of our employees as well as keeping our trains moving. I'm humbled by the unwavering commitment of our team to deliver critical supplies as we kept freight flowing and distribution centers stocked.
Safety
Nothing is more important than the health and safety of our employees and the communities in which we operate. We have retained our industry-leading position, thanks to our commitment to maintaining a strong infrastructure and by leveraging technology in our operations.
Unfortunately, during the first part of 2021 the BNSF family experienced the tragic loss of three team members in work-related incidents. Tragedies such as these are never acceptable. I know that our vision of operating free of accidents and injuries is possible because prior to these heartbreaking accidents we had been achieving it. We had our longest period without loss of life going back two and half years.
While we finished 2020 with injury-frequency and severity ratios higher than the previous year, we did make progress. Our Mechanical team achieved their best-ever frequency performance in 2020 and Engineering came close to matching theirs'. As we continue to navigate the challenges brought on by the pandemic, we must remain focused on the well-being and safety of our employees, and I am confident that working together we can achieve our safety vision.
Diversity & Inclusion
In our current environment, it is important that we reflect on our values as a company and to remind ourselves of the foundation upon which BNSF was built 25 years ago. Diversity and inclusion have always been a part of that foundation and core to our success. These principles, written as BNSF was created, set the tone for who we are and what we collectively believe.
Part of living our values is our commitment to continuous improvement and having an impact. Only through our actions can we sustain an inclusive, open and collaborative workplace that truly encourages diverse perspectives. We know it's a journey, and we are committed to ensuring that every single team member has equal opportunity to develop and succeed. We can and will increase female and minority representation among our workforce, invest in leaders who create a diverse and inclusive culture and ensure that diversity, equality and inclusion remain a strategic priority for our company.
Sustainability
We also take great pride in moving the economy in a sustainable way. By its very nature, rail is the most environmentally-friendly way to move goods long distances over land. The inherent efficiencies of rail generate value for our customers and communities by reducing transportation emissions and reducing our carbon footprint.
As we look to the future, BNSF strives to reduce our impact on the environment while improving efficiency. Two recent examples are our battery electric locomotive pilot in Southern California and our commitment to the Science Based Targets initiative to set a science-based carbon emission reduction target in 2022.
Service
At the start of 2020, we expected to see modest volume growth and continued productivity improvements. The global pandemic quickly impacted the economy and freight environment and within a short period we saw volumes fall swiftly. In the last half of the year business began to return and as volumes increased, we aligned resources to meet elevated demand.
Our work and dedication paid off, and we delivered a Perfect Peak Season for the fourth straight year. This is a crucial time of year when we coordinate closely with our parcel carriers to deliver on time during the holiday season. Working in conjunction with the largest parcel delivery companies in the world, we managed to move 80 million packages, a 30-percent increase from the previous year!
Our consumer products segment, which benefited from consumer spending shifting from services to durable goods, led the improvement through the latter part of 2020. Domestic Intermodal ended the year with record volume and we also saw the U.S. West Coast ports gain share of containerized imports as retailers sought to leverage the fastest route to replenish inventories. Our Industrial Products business experienced lower volumes due to declines in the energy sector and a softer economic environment as a result of the pandemic. Coal's long-term structural decline continued as volumes decreased at a more rapid pace due to low natural gas prices, elevated customer inventories and reduced electric generation. Agricultural Products saw strong export grain activity in the second half of the year and set a quarterly volume record in the last quarter of 2020.
Conclusion
We finished 2020 strong and in spite of all the challenges we have significant momentum this year. As a company we will continue to seize the opportunities before us by remaining nimble and adaptive. I am as confident as ever in team BNSF because I know that together we can accomplish anything and are always at the ready -- Answering the Call to move the freight our customers and communities need today and well into the future.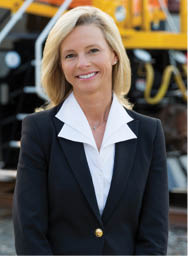 Katie Farmer
President and Chief Executive Officer