Agricultural Products Network Update for Friday, September 2, 2022
OPERATIONAL PERFORMANCE
BNSF's aggressive service recovery efforts are generating improved network performance as we move into September. Average car velocity increased versus the prior week and exceeded last month's average by nearly 6%. Our best single-day velocity of the year was achieved multiple times this week. In line with our total volume increasing for the fourth straight week, we also had our best performance in carload delivery in August for the year. Local service compliance also increased versus the previous week, and terminal dwell improved by over 7% versus the prior month.
As a reminder, we are ending our temporary permit embargo for shipments destined to California on Sunday, September 4. We will continue to work collaboratively with individual customers as needed to manage traffic flows so that we can build on the positive momentum gained during the embargo.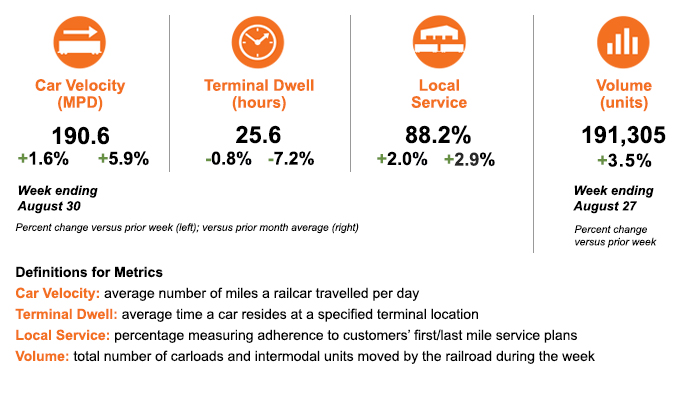 LABOR BARGAINING UPDATE
Since the Presidential Emergency Board (PEB) issued its recommendations on August 16, 2022, the railroads have been actively engaged with our unions to reach a voluntary agreement. Tentative agreements have been reached with five unions, the Transportation Communications Union/IAM, Brotherhood of Railway Carmen, the International Association of Machinists and Aerospace Workers, the International Brotherhood of Electrical Workers and the American Train Dispatchers Association, which together represent more than 21,000 rail employees.
The railroads will continue working with the remaining seven unions toward agreements based on the PEB's recommendations. We remain hopeful that we will be able to reach agreements with all unions as quickly as possible and before the expiration of the cooling-off period on September 16.

LABOR DAY OPERATING PLAN
Labor Day, Monday, September 5, is not a recognized shuttle holiday. BNSF will continue to operate Agricultural trains according to normal schedules; however, connecting carriers who have reduced operations for the holiday may cause delays on interline traffic. Grain Operations will provide full coverage over the holiday. Customer Support will maintain a limited staff on Labor Day. Normal coverage will resume on Tuesday, September 6.

SERVICE EXPECTATIONS FOR THE WEEK AHEAD
Excessive, recording-breaking heat will continue across much of the West into the middle of next week, with high temperatures approaching 110 degrees in some locations. BNSF teams will conduct additional track inspections during the period and are prepared to respond to any heat-related service interruptions. We also continue to monitor the high risk for wildfires in the region, particularly in the Interior Northwest.
As always, we thank you for your business and appreciate the opportunity to serve as your transportation service provider. We welcome your feedback and questions.