Amtrak Derailment Impacting Operations in Montana
BNSF teams remain at the scene of a derailment that happened Saturday afternoon near Joplin, Montana, approximately 50 miles east of Shelby. The incident, which occurred on BNSF track, involved a westbound Amtrak train traveling between Chicago and Seattle. Eight of the train's ten cars derailed, and there were three fatalities and several others seriously injured. BNSF extends our deepest condolences to those families and loved ones impacted by this accident.
We are working closely with the National Transportation Safety Board, Federal Railroad Administration, and other officials to determine the cause of this incident. While investigators continue to assess the accident scene, rail service through the area is suspended. As soon as officials allow engineering teams to begin track restoration work, we estimate that service could resume within 24 hours.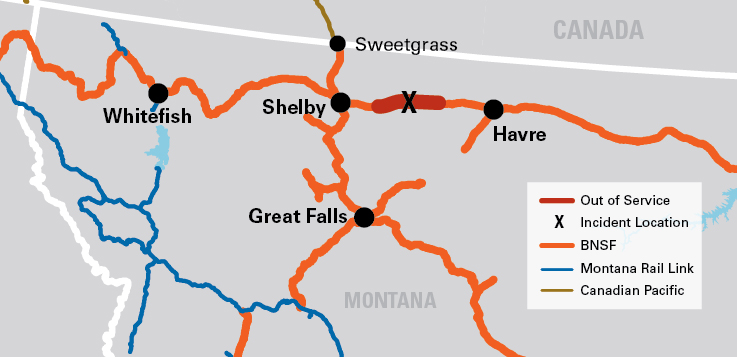 With this incident occurring on our primary Northern Transcon route between the Pacific Northwest and Midwest, a significant number of trains are holding due to this outage. We are currently re-routing as much traffic as possible onto other lines, including Montana Rail Link, to minimize the disruption.
Customers with shipments designated to move through this corridor should expect delays until operations have normalized. If you have questions regarding an affected shipment(s), please contact BNSF Customer Support at 888-428-2673.
We will provide further updates regarding this incident.