Automotive Network Update for Friday, April 16, 2021
Operational Performance
BNSF operating teams continue to focus on aligning resources with freight volumes on the network. We remain engaged in collaboration with our customers to drive greater productivity and efficiency to meet current demand as well as being able to handle additional growth.
With an active weather pattern in place across much of the network, we experienced high winds earlier this week, specifically along our Southern Transcon route through New Mexico, which negatively impacted velocity and fluidity. Overall car velocity was down slightly versus the prior week, but higher than the average level reported for March. Average terminal dwell is essentially unchanged versus last week as well as last month. Our local service compliance measure, which reflects our efficiency in the handling of carload freight, improved versus the prior week and is currently averaging near 90 percent.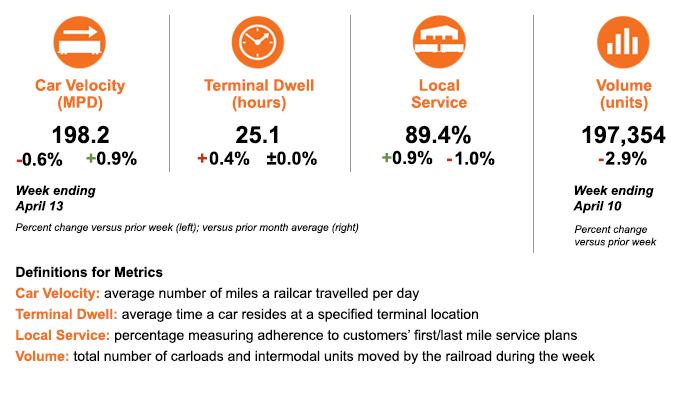 After significant disruptions to operations during February and into March, progress has been made in restoring our network fluidity. Returning service to the level expected by our customers remains a key focus. Through the hard work by our teams, we are on track to generate greater performance improvement in the weeks ahead.
Track Maintenance
With our peak season for track maintenance activity underway, "capital gangs" are active on multiple subdivisions across the network. This year, BNSF will replace nearly 430 miles of rail, approximately 2.6 million rail ties and conduct track surfacing and/or undercutting work on approximately 11,000 miles of track. These maintenance projects are critical to ensuring the safety and fluidity of our 32,500-route mile network.
Service Expectations for the Week Ahead
An active weather pattern will continue across the Northern Rockies and Plains during the upcoming week. With multiple systems bringing chances for snowfall and high winds in the region, BNSF teams are monitoring conditions for any potential service impacts. Most other areas of the BNSF network will experience favorable operating conditions, with no significant outbreaks of severe storms expected at this time.
As always, we thank you for your business and appreciate the opportunity to serve as your transportation service provider. We welcome your feedback and questions.