Coal Network Update for Friday, October 26, 2018
Operational Performance
BNSF operating teams continue to move strong freight volumes on the network during the fall peak season. Total volume moved by the railroad exceeded 200,000 units for the sixth straight week and 34th week this year. Overall car and train velocity were each up slightly versus the previous week but remain several percentage points below previous October levels.

With robust manifest traffic moving into/out of terminals, particularly our Tulsa and Kansas City facilities, BNSF teams remain focused on relieving congestion and reducing car dwell times. We continue to evaluate operational changes as well as the implementation of new procedures to help improve train flows through these busy locations.

Service on our Hannibal Subdivision, which runs between the Iowa/Missouri border and St. Louis adjacent to the Mississippi River, was fully restored this past Tuesday. Portions of the subdivision at both the north and south ends had been closed for the past two weeks due to flood gate closures. Water has receded in many locations and river levels are expected to gradually fall below flood stage during the next several days.

Southern Transcon: New Triple-Track in Central New Mexico
Last week, BNSF crews completed another major capacity expansion project on the Southern Transcon in New Mexico. More than 10 miles of new triple track was placed into service between Dalies and Belen, NM on our Gallup Subdivision.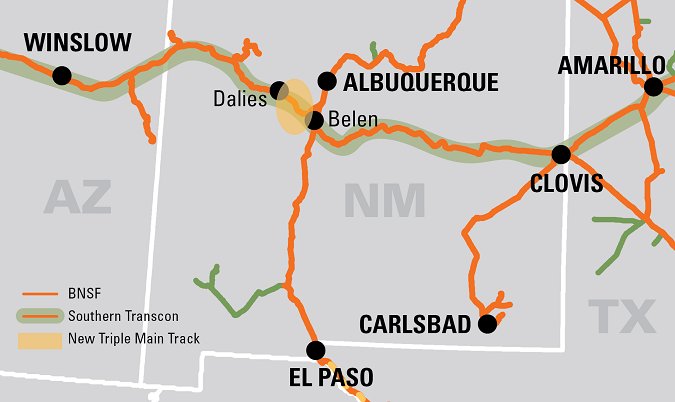 The project, which was originally scheduled for completion in early 2019, involved the installation of four new grade crossings, 17 switches, 27,000 concrete rail ties and 100,000 feet of rail.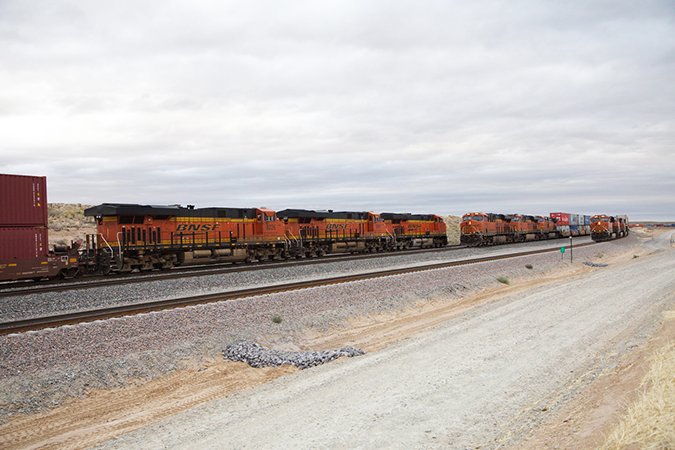 Eastbound train moves on new third main track (on the right) in Felipe, NM


The availability of a third main track through this key section of our Southern Transcon route offers a pass-through route for trains traveling at higher rates of speed that will facilitate throughput and help generate improved velocity.

BNSF's new "Rail Talk" blog, which launched this week, includes a profile of our Southern Transcon ("Rail's Super Highway") with historical information, details on this year's major capacity projects along the route as well as a video highlighting the new fourth main track in service through Amarillo.

Service Expectations for the Week Ahead
Favorable operating conditions are expected across much of the BNSF network. While the peak season for maintenance activity has ended, track and/or rail tie replacement work is still taking place across multiple BNSF subdivisions, particularly in our South Region. Across our Northern Transcon, major activity will continue next week on the Hi Line Subdivision between Whitefish and Havre, Montana.

Below is a look at the key operational performance categories for the week ending October 25:

Total trains held for the week decreased by more than five percent with an average of 117.1 trains held versus 123.9 trains held during the prior week.
Versus the October 2017 average: up by 57.2%

Total trains on the system was up by more than one percent versus the prior week with an average of 1,635 trains on the system.
Versus the October 2017 average: up by 12.1%

Car velocity, measured in miles per day (MPD), was up by more than two percent at 207.2 MPD versus 202.1 MPD recorded the prior week.
Versus the October 2017 average: down by 6.0%

Train velocity, measured in miles per hour (MPH), was up by more than two percent versus the prior week at 17.2 MPH.
Versus the October 2017 average: down by 7.3%

Total volume was essentially unchanged from the prior week with 208,684 units moved in Week 42 (ending October 20) versus 208,667 units in Week 41 (ending October 13).

Terminal dwell was down by nearly two percent versus the prior week at 26.2 hours.
Versus the October 2017 average: up by 3.5%

As always, we thank you for your business and appreciate the opportunity to serve as your transportation service provider. We welcome your feedback and questions.