Industrial Products Network Update for Friday, March 13, 2020
Operational Performance
The operation is delivering relatively steady overall performance while driving greater efficiencies across the network. Though slightly lower versus the prior week, car velocity is holding close to the average levels reported last month as well as year to date. Terminal dwell was reduced by more than three percent from the February average level.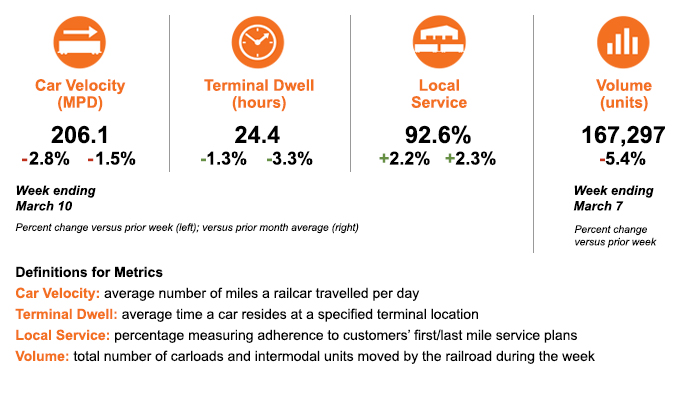 BNSF operating teams addressed significant challenges during the past week due to a rock slide on our main line in southeastern Montana. The slide occurred on March 4 near Ulmer, Mont., approximately 80 miles southwest of Glendive. More than 50 trains were rerouted as crews cleared the track of debris and completed track repairs. Service was restored Monday night and traffic flows through the area have normalized.

Along our Northern Corridor, winter storm warnings are currently in effect across portions of Washington, Idaho and Montana as high winds and significant snowfall are expected today and into the weekend. Winter Action Plans will be implemented as necessary, with BNSF teams prepared to quickly respond to any service disruptions.

Responding to the COVID-19 Outbreak
BNSF Railway is taking the necessary precautions to protect health and safety as well as minimize any impacts to our operations from the coronavirus (COVID-19) outbreak. We have been adhering to guidance and recommendations issued from the Centers for Disease Control & Prevention (CDC) and public health agencies throughout the network.

Safety is paramount at BNSF. In response to the outbreak, we have taken several actions to mitigate the exposure risks to employees, customers and visitors, including more frequent cleaning and sanitizing at BNSF facilities and restricting employee travel. Our Medical team continues to closely monitor the situation regarding any additional measures that should be implemented.

Regarding BNSF's continuity of operations, we have well-established plans to ensure that rail service is maintained throughout any workforce disruptions, including those caused by a pandemic. These plans include designating essential personnel and ensuring that the necessary train crews are available to keep trains moving. All BNSF facilities currently remain open with additional safety protocols in place.

Once conditions have improved, we are aware of concerns about the ability to support a spike in volumes involving North American supply chains. BNSF is working closely with our partners to ensure that resources are positioned where they will be needed most. In this effort, we would like to remind customers to please share information on anticipated volumes with your BNSF representative as frequently as possible. With your ongoing collaboration, we are confident that we have the equipment, facilities and other resources ready to handle an expected demand surge in the coming weeks.

Service Expectations for the Week Ahead
Following this weekend's winter storm in the Pacific Northwest and northern Rockies, favorable operating conditions will return to those areas during the upcoming week. We are monitoring an active weather pattern across the Southwest that is expected to generate multiple rain/snow events along portions of the Southern Transcon. No significant service interruptions due to weather are anticipated at this time.

Track maintenance activity continues in multiple areas of the network, particularly in several locations on the Southern Transcon. Operating teams continue to focus on minimizing any train delays resulting from scheduled daily work windows.