Intermodal Network Update for Friday, October 29, 2021
Operational Performance
BNSF operating teams responded to weather-related challenges earlier this week that caused some negative impacts on overall performance. Another powerful storm brought heavy rain to the West Coast, with record-breaking amounts reported in Northern California. High water caused track outages in the Sacramento area, which resulted in some delays as well as the re-routing of multiple trains. Service on affected main lines was restored Monday afternoon, and operations through this region have normalized.
Many areas of the BNSF network experienced high winds as this system moved east, including gusts of around 60 miles per hour reported in north Texas yesterday. Downed power lines on track in the Ft. Worth area delayed several trains. Due to the high winds, traffic was forced to move at reduced speed at times in multiple parts of the network. Favorable operating conditions have returned, with improved velocity and fluidity through affected areas.
On our Southern Transcon in California, we experienced a derailment this morning approximately 40 miles east of Barstow. Both main tracks at the incident location are out of service. Crews are at the scene and track repair work is scheduled for later today. We currently estimate a reopening of one main track during the early morning hours tomorrow with temporary speed restrictions in place. Customers with shipments designated to move to/from Southern California should expect delays until service is fully restored.
Some traffic on our Northern Transcon route is also experiencing delays today following a service interruption that occurred yesterday between Sandpoint, Idaho and Whitefish, Montana. Mechanical issues which resulted in a stopped train have been addressed, and additional crews have been deployed to move trains that were forced to hold during the interruption. Train flows through this area should normalize going into the weekend.
Regarding key service metrics, car velocity increased versus the prior week but remains slightly below the average reported for September. Terminal dwell increased by 2% and remains elevated versus the average from the prior month. Our local service compliance measure continues to hold at about 90%. Total volume increased by nearly 6% percent versus the prior reporting week and exceeded the robust 200,000-unit level.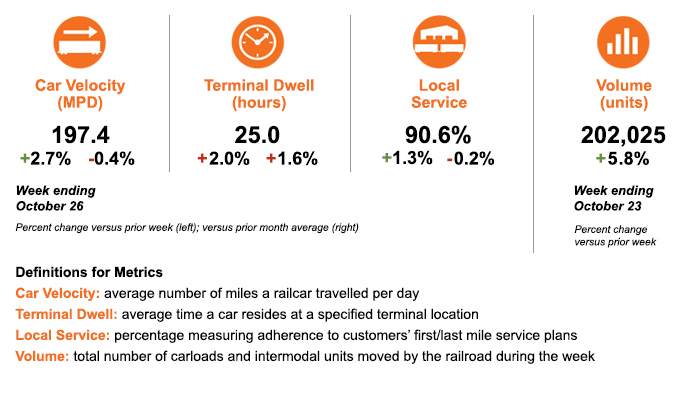 Service Expectations for the Week Ahead
Following a very active October in the West with multiple strong storms, a pattern change will occur going into the first week of November. Operating conditions throughout much of the BNSF network should remain favorable during the upcoming week, with no significant winter weather expected at this time.
As always, we thank you for your business and appreciate the opportunity to serve as your transportation service provider. We welcome your feedback and questions.