Making Progress in Restoring Normal Operations Across the North
BNSF operating teams are generating improved service performance across our North Region. As we reported, frequent extreme winter weather during the past few weeks, from heavy snow/rain in several key locations to Arctic cold across much of the Northern Plains, significantly impacted our ability to maintain normal operations.
With milder temperatures during much of this week, we have been able to run longer trains, which helps ease the demands on our locomotive fleet and reduce delays. We have also generated gains in network velocity, fluidity, and in moving those trains forced to hold for an extended time due to weather-related issues. Train velocity in our North Region yesterday (January 13) was up nearly 20% versus the year-to-date average. Our efforts throughout the region are focused on maintaining this positive momentum.
While overall operating conditions were improved, there were significant disruptions to train flows in both Montana and Washington. An avalanche occurred last weekend along our primary Northern Transcon route in Montana, approximately 55 miles east of Whitefish. Some trains experienced delays this week due to snow clearing from main lines in the area as well as from ongoing mitigation activities.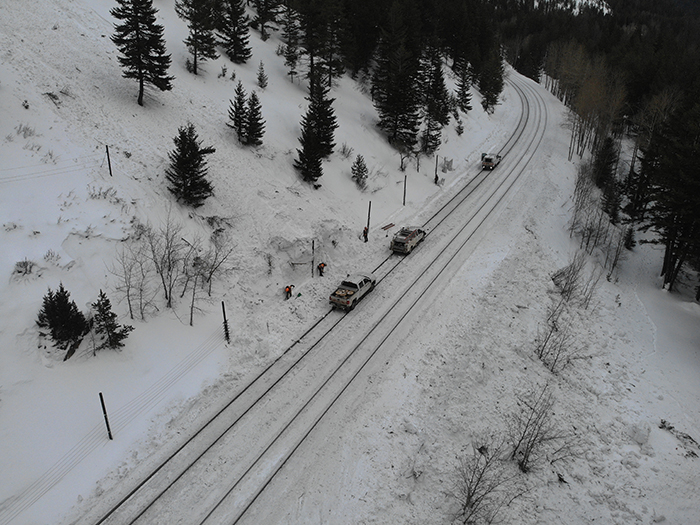 BNSF crew clearing snow from track following avalanche in Montana – January 9, 2022
We also experienced some train delays in western Washington on Wednesday due to a landslide that impacted our north-south main line near Seattle. Service through the area was affected for several hours while crews cleared the scene. Seattle has already received more than six-and-a-half inches of rain this month, which is the wettest start to January on record.
Currently, BNSF teams are responding to another strong winter storm moving through the Upper Midwest. Winter storm warnings stretch from South Dakota southeast through Minnesota, Iowa and into the St. Louis area. Along with heavy snow in some locations, high winds and frigid temperatures are expected in the wake of this storm. We have implemented Winter Action Plans and our operating teams are prepared to quickly respond to any disruptions.
Thank you for your patience during this challenging start to the new year across the North. As always, we appreciate your business and the opportunity to serve as your freight transportation provider.