Agricultural Products Network Update for Friday, May 22, 2020
Operational Performance
The BNSF network remains in solid condition as we continue to generate strong service performance. Average car velocity held steady with the prior week and is running at its highest levels of the year to date. While higher versus the prior week, terminal dwell remains near the lowest level reported in the past year. Our local service compliance measure continues to exceed 93 percent.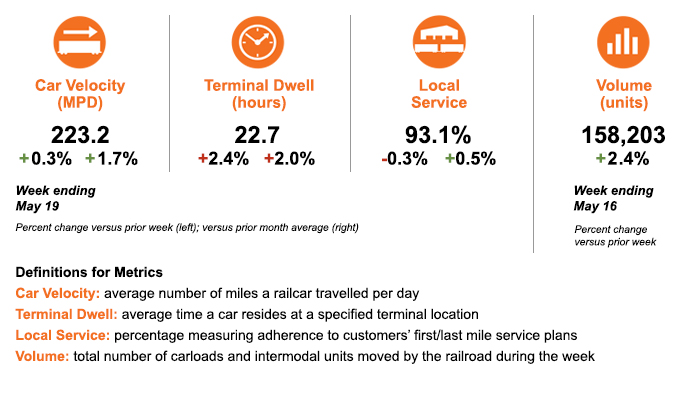 BNSF operating teams continue to focus on trains moving critical COVID-19 shipments and making adjustments where necessary to ensure their on-time arrival at destination. With reduced traffic flows on the network, and thanks to the hard work of our engineering teams, many track maintenance projects are progressing ahead of schedule.
Memorial Day Holiday Operating Plan
This year, the Memorial Day holiday falls on Monday, May 25. Memorial Day is not a recognized shuttle holiday. Agricultural trains will operate according to normal schedules; however, connecting carriers who have reduced operations for the holiday may cause delays on interline traffic. Customer Support and Grain Operations will provide full coverage over the holiday as well.
Service Expectations for the Week Ahead
Much of the BNSF network will experience favorable operating conditions during the upcoming holiday week. Multiple rounds of storms are expected in parts of Texas and Oklahoma over the next several days, with heavy rainfall possible in some areas. As always, we are monitoring conditions and will advise impacted customers of any significant service disruptions.
Track maintenance activity continues across the BNSF network. With daily work windows scheduled in multiple locations, BNSF operating and engineering teams are in close coordination to minimize train delays as much as possible.