Coal Network Update for Friday, April 13, 2018
Operational Performance
The operation confronted several service challenges this week which negatively impacted performance in key areas of the network. Overall velocity for cars and trains each decreased by a few percentage points versus the prior week. While terminal dwell was essentially unchanged, the average number of total trains held increased by a substantial margin primarily due to these disruptions.

As we reported to impacted customers, we experienced a grain train derailment Sunday on our Glasgow Subdivision in eastern Montana as well as a derailment on our Red Rock Subdivision south of Oklahoma City. The incidents, which resulted in main line outages of about 18 hours and 12 hours respectively, caused some train delays as well as the re-routing of several trains. Fluidity has been restored through each of these areas, however, maintenance activity has restrained our progress in delivering additional service improvements across our primary route through northern Montana. Multiple maintenance projects will continue to cause some delays due to scheduled work windows along that route.

Train flows were also disrupted as BNSF crews completed a major bridge replacement project this past weekend on our Southern Transcon in Missouri. The work on the Bosworth Bridge, which crosses the Grand River about 90 miles northeast of Kansas City, involved installing five new spans on this double-tracked section of our Marceline Subdivision. The complex work required a nearly 48-hour main line outage at this location, which caused some significant delays. The bridge was originally built in 1910, and the new spans with their state-of-the-art material will ensure that it will last another 100 years.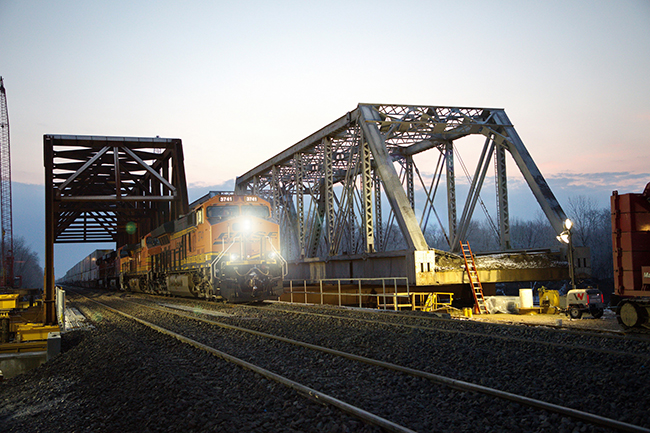 The first train travels over the Bosworth Bridge with the old bridge truss to the right.

BNSF is currently monitoring a storm system triggering severe weather in multiple areas of the network. Winter storm warnings are in effect until Sunday across much of the northern Plains and upper Midwest, including the Twin Cities. BNSF teams have pre-positioned signal generators in key locations, deployed "snow coach" locomotives to enable crew movements in response to road closures, and adjusted staffing levels to ensure sufficient coverage throughout the weekend. Our Twin Cities Division will also implement a round-the-clock command center if necessary to address any service interruptions.

Service Expectations for the Week Ahead
As this weekend's storm clears, much of the network will return to favorable operating conditions to begin the week. BNSF capital gangs also remain active throughout the network with several major ongoing maintenance and expansion projects. In addition, another significant track replacement project is currently planned to begin on the Southern Transcon in Illinois on Friday evening, April 20, and continue until as late as Saturday morning, April 21. The project, which was postponed in March, involves replacing a track diamond (a location where tracks cross) at Streator, Illinois, approximately 100 miles southwest of Chicago. As the schedule is confirmed next week, we will update all impacted customers with additional information and service details.

Below is a look at the key operational performance categories for the week ending April 12:

Total trains held for the week increased by nearly 25 percent with an average of 126.0 trains held versus 101.1 trains held during the prior week.
Versus the April 2017 average: up by 97.8%

Total trains on the system was up by more than one percent versus the prior week with an average of 1,552 trains on the system.
Versus the April 2017 average: up by 10.0%

Car velocity was down by nearly four percent at 207.4 MPD versus 215.3 MPD recorded the prior week.
Versus the April 2017 average: down by 3.3%

Train velocity, measured in miles per hour (MPH), was down by more than four percent versus the prior week at 17.3 MPH.
Versus the April 2017 average: down by 8.7%

Total volume was down by more than two percent from the prior week with 199,442 units moved in Week 14 (ending April 7) versus 204,470 units in Week 13 (ending March 31).

Terminal dwell decreased by more than one percent versus the prior week at 25.7 hours.
Versus the April 2017 average: down by 2.8%

As always, we thank you for your business and appreciate the opportunity to serve as your transportation service provider. We welcome your feedback and questions.