Coal Network Update for Friday, May 25, 2018
Operational Performance
BNSF experienced a derailment of a merchandise train yesterday afternoon in Aurora, Illinois, approximately 40 miles west of Chicago. Some customers with shipments moving through this area may experience delays as work at the scene is ongoing today. We will continue to update impacted customers as operations are fully restored.

Our operating teams remain focused on delivering improved service performance while managing peak maintenance activity on the network as well as strong volumes moving on the railroad. For the fifth straight week, total weekly volume exceeded the robust 200,000-unit level. No other North American railroad has moved 200,000 units in a single week this year.

Total trains on the system is at or near its highest weekly levels of 2018 with year-to-date growth in nearly all market sectors. We continue to take actions to improve velocity on the network, including the deployment of an additional 40 locomotives last week.

We are also addressing service challenges involving some traffic interchanging with eastern carriers in New Orleans. BNSF is working with those carriers to alleviate delays, including the re-routing of some trains via alternate gateways including Memphis.

In addition to ongoing maintenance work on the network, progress continues on several key capacity expansion projects scheduled for completion this year. On our Southern Transcon in New Mexico, crews are constructing more than 10 miles of third main track between Dalies and Belen on our Gallup Subdivision.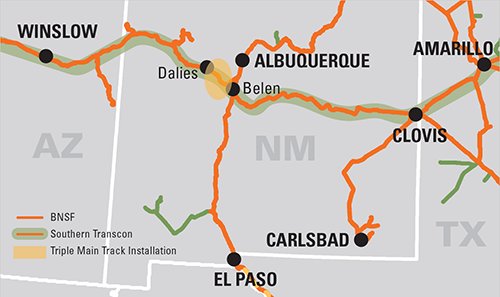 The project work includes the installation of four new grade crossings, 17 switches, 27,000 concrete rail ties and 100,000 feet of rail. The new third main track will help improve velocity through this location on the Transcon and is expected to be placed in service this fall.

Memorial Day Holiday Operating Plan
BNSF will continue to run coal trains, both loaded and empty, according to normal schedules throughout the holiday weekend.

Service Expectations for the Week Ahead
Favorable operating conditions are expected across much of the network into the upcoming week.

Major maintenance activity in multiple locations will continue, with the most significant impact to service along portions of our Northern Transcon route in eastern Montana and western North Dakota as well as in northern Idaho. Traffic designated to move through these areas may experience delays due to scheduled daily work windows.

Below is a look at the key operational performance categories for the week ending May 24:

Total trains held for the week decreased by more than 12 percent with an average of 91.7 trains held versus 104.4 trains held during the prior week.
Versus the May 2017 average: up by 9.6%

Total trains on the system was down by nearly one percent versus the prior week with an average of 1,564 trains on the system.
Versus the May 2017 average: up by 10.7%

Car velocity was essentially unchanged at 214.5 MPD versus 214.3 MPD recorded the prior week.
Versus the May 2017 average: up by 1.3%

Train velocity, measured in miles per hour (MPH), was up by nearly one percent versus the prior week at 18.1 MPH.
Versus the May 2017 average: down by 1.2%

Total volume was essentially unchanged from the prior week with 203,481 units moved in Week 20 (ending May 19) versus 203,944 units in Week 19 (ending May 12).

Terminal dwell was up by nearly two percent versus the prior week at 25.4 hours.
Versus the May 2017 average: down by 3.1%

As always, we thank you for your business and appreciate the opportunity to serve as your transportation service provider. We welcome your feedback and questions.