Industrial Products Network Update for Friday, March 27, 2020
Operational Performance
The operation continues to deliver strong, consistent overall service performance on the network. Average car velocity increased versus the prior period with BNSF operating teams generating progressively higher daily levels this week. Terminal dwell remains below the average level for last month while our local service compliance measure exceeds 90 percent.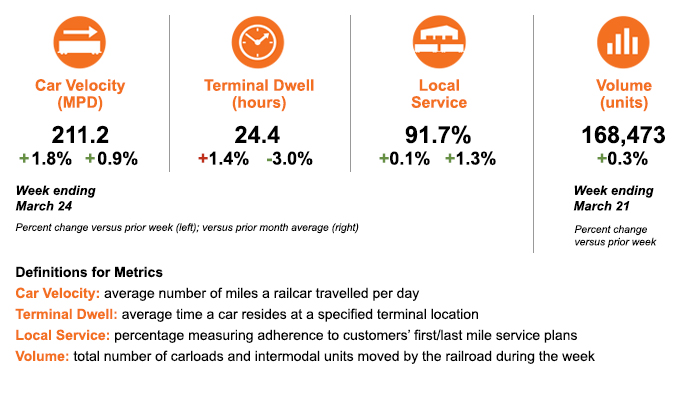 We experienced a derailment early Monday morning on our main line between Tulsa, Oklahoma and Springfield, Missouri (Cherokee Subdivision), approximately 50 miles west of Springfield. Some trains experienced delays while BNSF teams and contractors completed track repairs. Service was restored within approximately 24 hours and traffic flows have returned to normal through the area.

COVID-19 Response
Since the outbreak of the coronavirus (COVID-19) pandemic, BNSF has maintained normal operations while instituting new protocols to protect the health and safety of employees, customers and the communities that we are proud to serve. We understand that the nation is depending on us to deliver the critical goods needed in grocery stores, medical facilities, and many other locations. From frozen foods to cleaning products, BNSF employees are working hard to ensure that these critical goods are delivered as safely and efficiently as possible.

With shelter-in-place orders or emergency declarations currently in effect in multiple locations, we want to help those customers who may be affected. If your facility has suspended operations, either fully or partially, please notify BNSF as soon as possible. You can submit your information through the online form available here.

For more information, please visit our Coronavirus COVID-19 Response webpage. We will continue to provide additional updates on this situation.

Service Expectations for the Week Ahead
We will continue to respond to some winter weather expected in portions of the Pacific Northwest and into the Northern Rockies during the upcoming week. Most other areas of the BNSF network will experience favorable operating conditions going into April.

We are also nearing the start of our peak season for track maintenance activity. More projects are underway across multiple areas of the network, particularly in central and southern California as well as portions of our Southern Transcon. As always, we are coordinating with engineering teams as effectively as possible to minimize train delays due to daily work windows in these areas.