Intermodal Network Update for Friday, May 11, 2018
Operational Performance
The operation is sustaining relatively steady overall performance as our teams continue to manage extensive maintenance activity and capital expansion work with robust volume moving on the network. Car velocity and terminal dwell were each relatively unchanged versus the prior week, while total trains on the system remains at or near its highest year-to-date average. Total weekly volume moved by the railroad exceeded the 200,000-unit level for the third consecutive week and the 13th reporting week of 2018.

To support strong volume demands, BNSF expects to fill more than 3,500 hourly positions across our network in areas including our transportation, engineering, dispatching and mechanical crafts. Nearly 900 train, yard and engine (TY&E) employees are currently in training for deployment during the next several months. As always, our operations teams remain focused on improving fluidity through key areas and minimizing disruptions due to track work as much as possible.

Many of the capital projects we completed in 2017, including capacity expansion at multiple intermodal facilities, were targeted to support the growing needs of our customers. The digital version of our Annual Review, which was released earlier this week, highlights these service-related initiatives and the benefits they have provided. This year's version, available here, also features several videos and features other topics such as safety, sustainability and community engagement.

Intermodal Update
BNSF's 2018 capital plan calls for investing $91 million for intermodal facility expansion. Work has started at our Alliance Intermodal Facility in Fort Worth, Texas where we plan to increase capacity by adding 1300 new parking stalls.

In order to minimize disruption to daily operations, our plan calls for incrementally preparing and paving new sections of parking at the facility. As a result, we will add 300 spaces by the end of May. After that, crews will begin paving work on an eleven-acre parking lot with 300 parking stalls becoming available by July 9; an additional 400 stalls by August 6; and 300 more by September 11. The photograph below shows that grading work has been completed for Lot E in the foreground as well as Lots 59 and 60, located in the upper right section of the picture.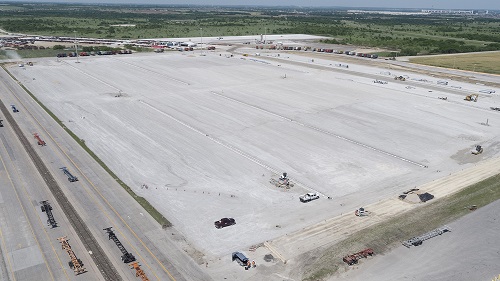 Service Expectations for the Week Ahead
Favorable operating conditions are expected across much of the network into the upcoming week.

Ongoing maintenance activity in multiple locations may cause some train delays during scheduled work windows. We will continue to update customers regarding any major service disruptions.

Below is a look at the key operational performance categories for the week ending May 10:

Total trains held for the week increased by more than 20 percent with an average of 122.4 trains held versus 101.6 trains held during the prior week.
Versus the May 2017 average: up by 46.3%

Total trains on the system was up by nearly two percent versus the prior week with an average of 1,574 trains on the system.
Versus the May 2017 average: up by 11.4%

Car velocity was essentially unchanged at 211.6 MPD versus 211.0 MPD recorded the prior week.
Versus the May 2017 average: down by 0.1%

Train velocity, measured in miles per hour (MPH), was down by nearly two percent versus the prior week at 17.5 MPH.
Versus the May 2017 average: down by 4.1%

Total volume was down by nearly two percent from the prior week with 202,245 units moved in Week 18 (ending May 5) versus 205,628 units in Week 17 (ending April 28).

Terminal dwell was essentially unchanged versus the prior week at 25.2 hours.
Versus the May 2017 average: down by 3.8%

As always, we thank you for your business and appreciate the opportunity to serve as your transportation service provider. We welcome your feedback and questions.