BNSF Railway Delivers Holiday Cheer to Regional Nonprofits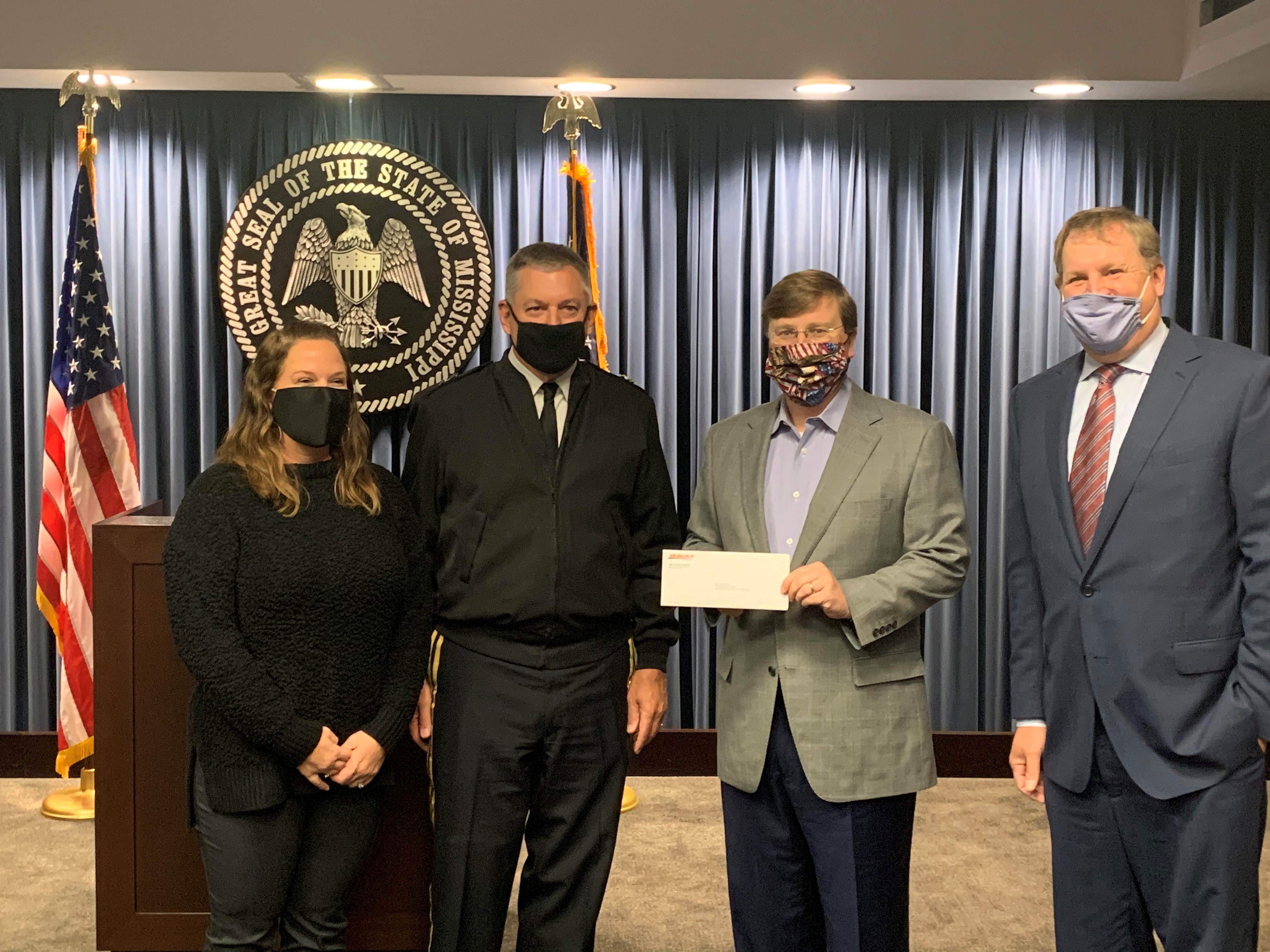 From left to right: Kristina Frazier, Family Support Programs and Mississippi National Guard; Mississippi Adjunct Gen. Janson Boyles; Mississippi Gov. Tate Reeves and BNSF's Michael Garriga.
Fort Worth, Texas, Dec. 17, 2020 – BNSF Railway Company (BNSF) recently delivered holiday cheer on behalf of all BNSF employees through its Foundation's donations of $10,000 checks to four nonprofit organizations that support military men and women and their families. This year due to the ongoing pandemic, BNSF had to make the tough decision to cancel its annual Holiday Express train ride, which honors military members and their families with a special train trip, holiday treats and a visit from Santa.
Since the Holiday Express' inaugural trip in 2008, BNSF has donated to local organizations along the trips' routes that support troops and their families. While the pandemic halted this year's train trips, which were originally scheduled for the southeast portion of the BNSF network, Michael Garriga, BNSF executive director of public affairs, helped facilitate donations to regional organizations to ensure that resources were still allocated during this critical time of need.
"We were disappointed that we couldn't take the military members and their families on board our train," Garriga said. "But it still feels really good to know that even without the train, BNSF can honor these families and their sacrifices, especially during this difficult time."
This year's donation recipients include:
The Governor's Challenge for Veteran Suicide Prevention in Alabama
Camp Alliance in Arkansas
Mississippi Military Emergency Relief Fund
Tennessee's Auxiliary Soldier and Airman Relief Fund
"We are so grateful for BNSF Railway and their contribution to the Mississippi Military Emergency Relief Fund," said Gov. Tate Reeves. "We thank you for your generosity and continuous support of our service men and women."
Since its inception, the BNSF Holiday Express has hosted nearly 30,000 military personnel and their families. In that time, the BNSF Railway Foundation has donated about $1 million to organizations that support the troops and their families. Additionally, the Foundation has donated $2.4 million to the USO to benefit Operation Enduring Care along with other military support organizations.
About BNSF
BNSF Railway is one of North America's leading freight transportation companies. BNSF operates approximately 32,500 route miles of track in 28 states and also operates in three Canadian provinces. BNSF is one of the top transporters of consumer goods, grain and agricultural products, low-sulfur coal, and industrial goods such as petroleum, chemicals, housing materials, food and beverages. BNSF's shipments help feed, clothe, supply, and power American homes and businesses every day. BNSF and its employees have developed one of the most technologically advanced, and efficient railroads in the industry. We work continuously to improve the value of the safety, service, energy, and environmental benefits we provide to our customers and the communities we serve. You can learn more about BNSF at www.BNSF.com.