Geo car technologies detect what the eye can't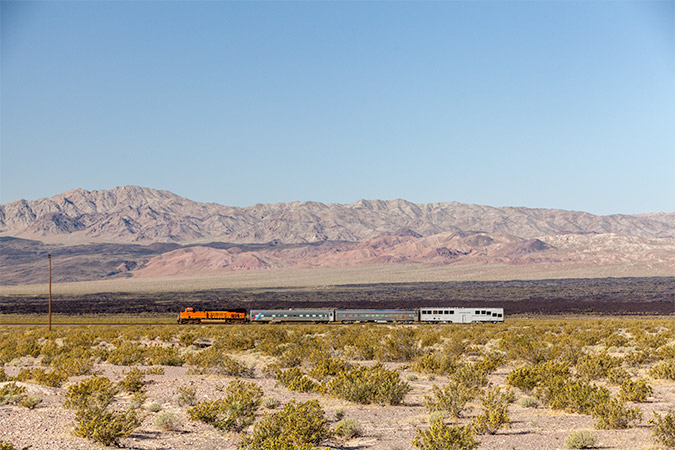 What rides on our rail – mostly freight and some passenger trains – holds precious cargo. That's why we take every precaution to make sure that all track components, including rail, crossties, spikes, bolts and plates and even the roadbed underlying the track are stable and dependable.
Our Engineering team is responsible for our infrastructure, and one of its important duties is regular inspection of track components. One of the technologies our people employ to do this is our fleet of inspection cars, better known as "geo cars."
There are two types: the traditional geometry car, which is supported by personnel onboard the consist, and an unmanned version that does not have personnel onboard. Both types are retrofitted passenger cars with computers so the analysts, either those onboard or remote, can monitor track conditions as the train travels along its route. Both car types run in a dedicated consist pulled by a locomotive.
"Our geo cars survey every foot of rail, collecting a variety of measurements as the train traverses the track at speeds up to 70 mph," explained Justin Hughes, director, Track Management. BNSF currently has two manned and three unmanned sets, the latter will be joined by a fourth later this year. On average, BNSF's geo car fleet annually covers up to 400,000 track miles, with the unmanned cars able to operate 24/7.
Onboard sensors, including cameras, lasers, radar and machine vision systems, survey the track structure passing beneath to find a variety of flaws, some imperceptible to the human eye. Data generated by the test cars is processed using algorithms and artificial intelligence to analyze hundreds of millions of bytes of data and determine when and where track maintenance is needed.
Here are just some of the track characteristics the onboard technologies monitor:
Alignment – how straight the track is
Cross-level – the cant or pitch of the track
Curvature – the actual degree of a curve vs. its design
Track Gage – the distance between the rails
Rail Profile – wear and tear of the rails
Ground Conditions – the state of ballast rock and subgrade (the ground under the track)
Rail Joint Conditions – the fastening system where two rail ends meet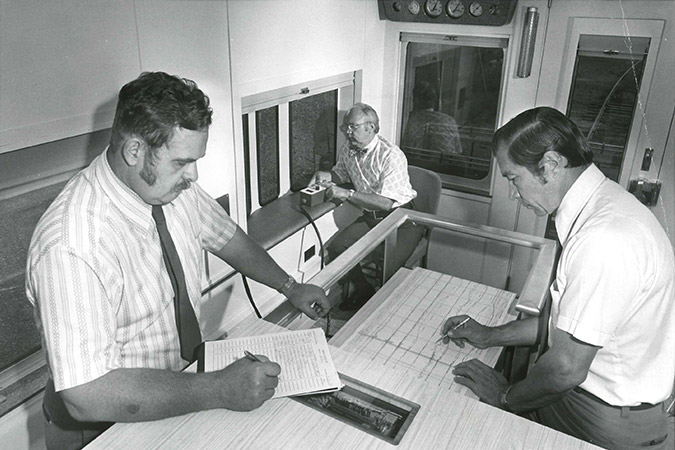 While we're not the only railroad to use geo cars, BNSF and our predecessors started using them in the 1970s. At the time, the Atchison, Topeka and Santa Fe's geometry cars were reported to be some of the most sophisticated track inspection equipment in operation.
Today, we continue to be recognized as an industry innovator. We recently implemented Track Health Optical Recognition, or THOR. This optical track inspection technology detects and reports defects on rail joints, such as missing bolts or cracks, and is mounted and fully operational on both of BNSF's manned geometry cars.
"The system utilizes sophisticated cameras to capture high-resolution images at speeds up to 70 mph," said John Martin, director, Technology Services. "On-board computers use advanced graphics processing technology and machine vision algorithms to automatically detect defects. The resulting defect information along with supporting images are transmitted within minutes for review and corrective action."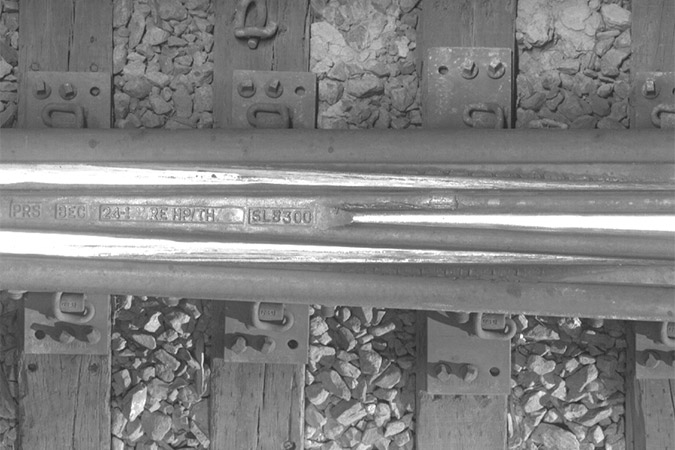 Added Hughes: "THOR can detect a crack as small as one-sixteenth of an inch. This system is one we developed in-house and is another great example of how we continue to evolve our automated track inspection program."
As an industry leader in developing new technologies – as our predecessors did and we continue to do – BNSF will continue to ensure that every section of our 32,500-mile network is in good working order. Our goal is to get that precious cargo where it needs to go, safely and efficiently.