BNSF Employee Reaches New Heights by Competing in Highland Games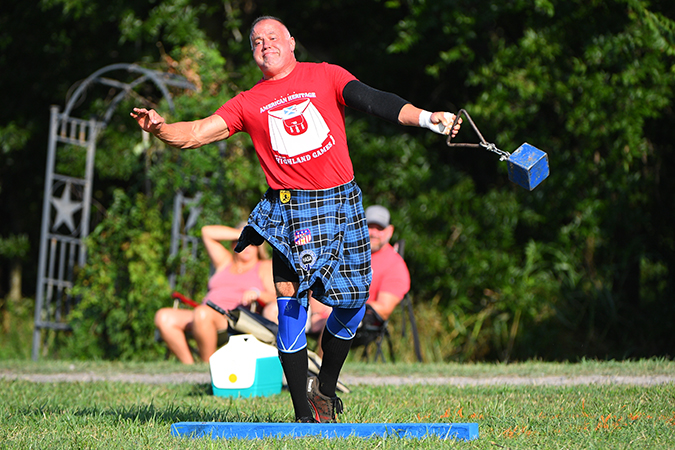 Many sports test for power, strength and athleticism – but only one requires a kilt.
The Highland Games, which originated in Scotland, are Olympic-like sporting competitions popular around the world. Participants' skills mainly involve throwing and lifting implements like cabers (giant tree logs), hammers, stones and bales of straw.
Competitors can be men or women, and kilts are mandatory, mainly as a way of celebrating Scottish and Celtic cultures, especially those of the Scottish Highlands.
His ancestry drew Tedd Van Vleck, a business analyst in BNSF's Transportation Department in Fort Worth, Texas, to compete in the games.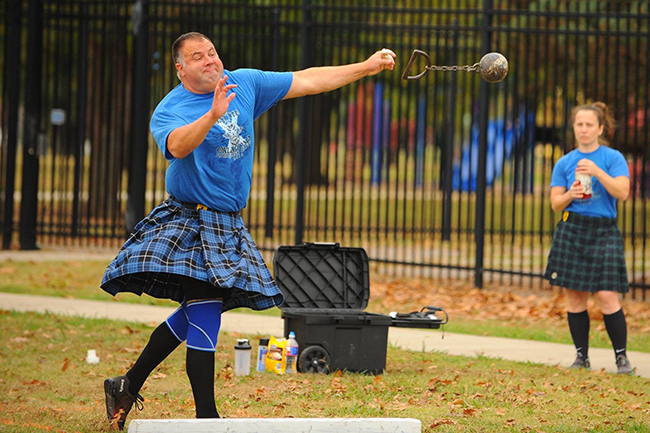 "My brother Thom traced our family to the Morgan clan in the Highlands, and he was the first to get involved," Van Vleck said. After watching his brother compete, he decided to give it a try in 1994.
"It started out as a fun thing to do with my brother. I didn't start seriously training until about 2015," he said. At the same time, he also began a fitness journey to lose weight and get healthy. "I decided I don't want to have any regrets. You only get one body and I want to do the most with mine."
His next goal was to be the best in his age group and event, the sheaf toss.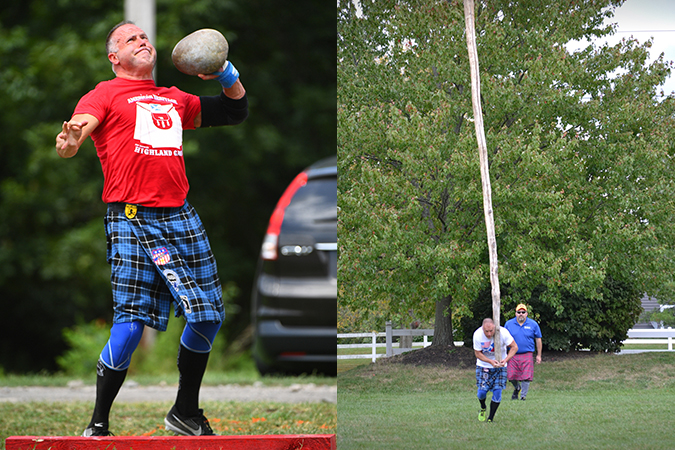 In this contest, the sheaf – a 16-pound burlap-covered bale of straw – is tossed with a pitchfork as high as possible. Competitors get three attempts to toss the bale over a movable bar; the highest with fewest misses wins.
Van Vleck's determination paid off, with him qualifying for every world event since 2017 as a "master" (under 200 pounds and in the 40-49 age category). Currently he holds three world records in two age groups, with his first record set in 2019 in Santiago, Chile. For an American to hold a world record in a Scottish sport is a big deal – and had been another of his goals since he began competing.
Van Vleck is most proud of his ability to compete in all-age and -weight group events, when he can be up against 20- and 30-year-olds. "A lot of the competitors are former Olympic athletes or NFL players," he said. "It can be really inspiring to see 'older' guys compete. Really, all of us just want to throw!"
In addition to giving him a chance to get healthy and compete, the games have taken him around the country and the world, with Van Vleck estimating he's attended around 500 and competed in around 100 sheaf toss events. It's also a family affair, with his wife throwing discus.
What he loves most about the games is that "it's all on me," he explained.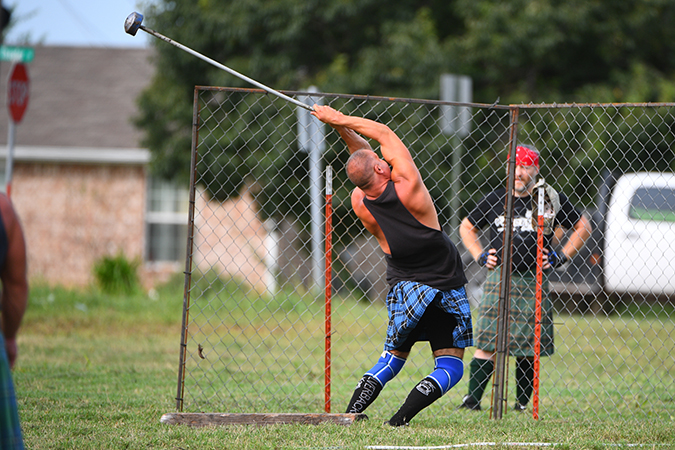 "It's a different type of pressure. With a team sport, all you know is what the team did. With this, I'm not only outside and with friends, when we're competing, it's about who throws the highest or the farthest. The tape measure doesn't lie."
The pandemic cancelled some events in 2020 and surgery sidelined him for part of 2022, but Van Vleck is now back training, running a mile each morning, lifting in the evening and practicing his throws several times a week. His next goal is to get back to competition by April 2023.
In the meantime, he's also begun coaching. "When I moved to Fort Worth, I worked with coaches on strength and nutrition," he said, adding that Texas has a strong contingent of throwers. "So, as I coach other players here, I'm beginning to wonder if that's my next path."
Either way, he won't be throwing in the towel any time soon.