BNSF employee builds model railroad with skill and engine-uity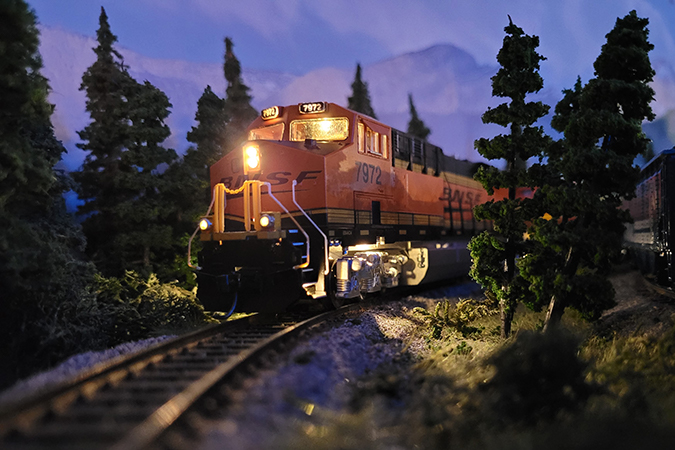 Reggie Thomas grew up in a small Texas town, where the faint rumble of far-off freight trains was always in the background. His family would often go on excursions to watch the passing of large, vibrant locomotives.
Trains have been a life-long passion that has carried into his career and hobbies. Thomas has been a software engineer at BNSF for 7 years, and in his downtime, he's a model railroader and member of the National Model Railroad Association.
Taking up a large portion of his family game room is a model railroad layout the size of a pool table. His model sizes are based on the H.O. scale, which uses a ratio of 3.5 millimeters for every foot. Small figurines gather around flashing locomotives or tracks in scenes depicting railroad operations or maintenance, while others drift on their canoes in the river. The layout is full of life thanks to his careful attention to detail.
"Everyone has their stress relief, and this is mine. It keeps my brain sharp," Thomas said. "This is an art for me."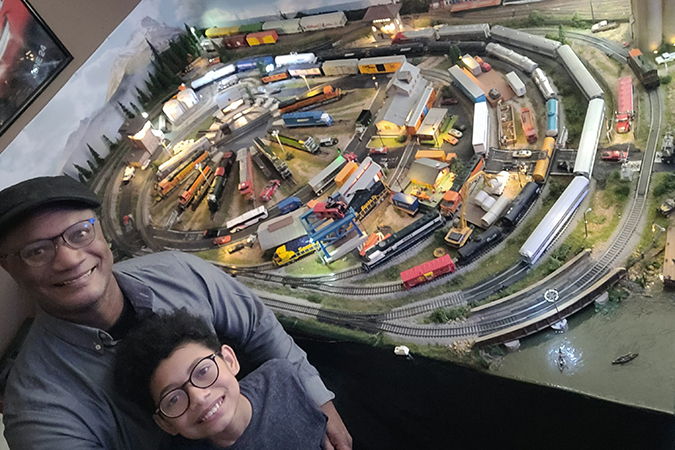 Thomas' grandfather introduced him to rail models as a kid, and he has been building them ever since. He remembers when he was eight, and he and his dad were strolling through a K-Mart when he found his very first set. It didn't take long to convince his dad to buy it. Many of the locomotives Thomas has today were passed down from his dad or grandparents. "They're our family heirlooms," he said.
He's come a long way since then, now crafting his own models. Although it's possible to buy fully decked out models, Thomas prefers to create from scratch, relying on his background in photography, software and the railroad industry to bring his models to life. "I make up for lack of fancy equipment with a creative eye," he said.
Building locomotives and landscapes on a budget makes his hobby more fulfilling. "First, I buy a basic body shell with nothing on it or in it," he said of the cars and locomotives. Once he decides on a design, he disassembles the shell to add a control system, sound chips and small LED lights, then paints color and details.
Like any modeler, he likes to keep his trains moving. The longest-running session Thomas has had with no derailments is eight hours. To keep trains on track, everything must be kept clean and well-maintained. Thomas will often change out old wheels, clean off dust and make sure that the tracks are level to maintain the integrity of his models.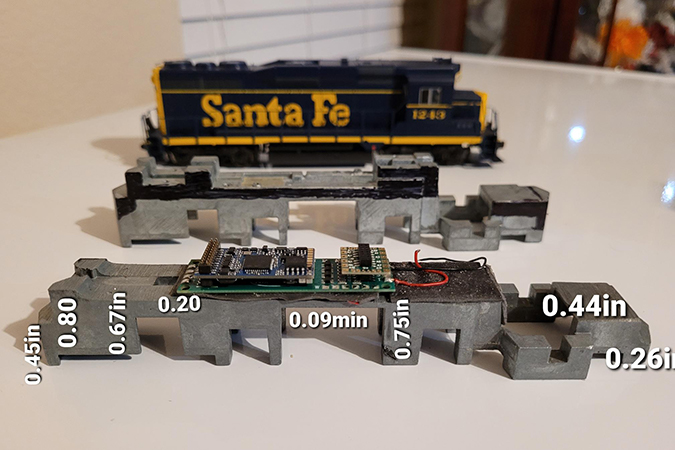 His favorite locomotives are his Santa Fe Yellow Bonnets, EMD GP-35,30 and 20s with yellow and blue paint schemes. They were his childhood favorites from the '70s and '80s, and he continues to make sure they're in good shape.
He's also proud of his models featuring an early BNSF locomotive with a dark green and cream paint scheme meant to commemorate the merger of Burlington Northern (BN) and The Atchison, Topeka and Santa Fe (ATSF), and a BNSF locomotive given the nickname "Smurf" by railfans for its bright blue body. Thomas' iterations of them are favorites among model railroaders and are testaments to his skill.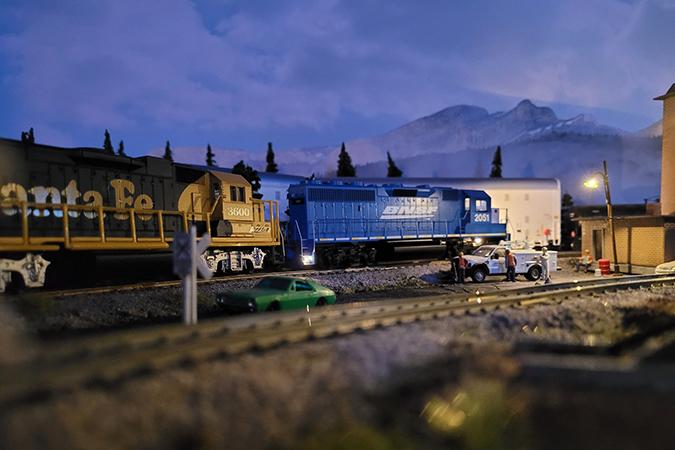 The family tradition continues to be passed down to Thomas' children. At one point, Thomas had boxed up his models from childhood and put them in the attic. When he started working for BNSF, his wife reminded him of his collection, and when he got it out, his son was fascinated. Now they work on building and running models together. Much of the current layout took four years to make and was a family effort. The new intermodal facility they're adding was inspired by Thomas' son.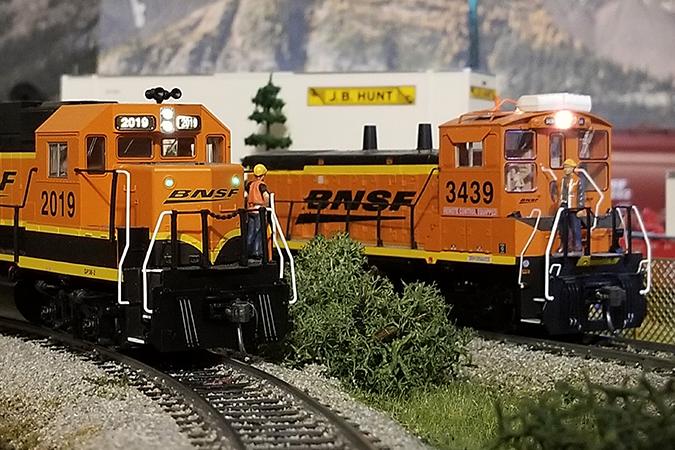 Although Thomas restarted his passion as an adult for its therapeutic benefits, it also became a centerpiece for his family's life. His daughter will sometimes move pieces to make the layout more interesting. As an ongoing joke, she likes to take the cows and put them in canoes. Even his dogs can be found lounging under the table. As the size of his model continues to grow, his wife often jokes about having enough space. "Just leave me a spot to sit," she says.
Thomas also enjoys posting photos and videos of his layout online. In addition to sharing his experience with his family, Thomas helps many model railroaders who come to him for his expertise.
"My advice to anyone that's new is to start simple," he said. "Start with a simple oval track and take your time. Rushing will affect your models down the line. It takes a lot of patience, so make sure to do your research. YouTube is your friend."
There are also many forums with plenty of advice and helpful fellow rail modelers, including Thomas. Even though many offer to pay him for lessons and companies try to sponsor him to try their products, Thomas does everything for free.
"This is art for me," he said. "I'm an artist, and I'd like to show others how to do it. It's the best hobby in the world."