BNSF's Tuition Reimbursement Program gives employees' education a boost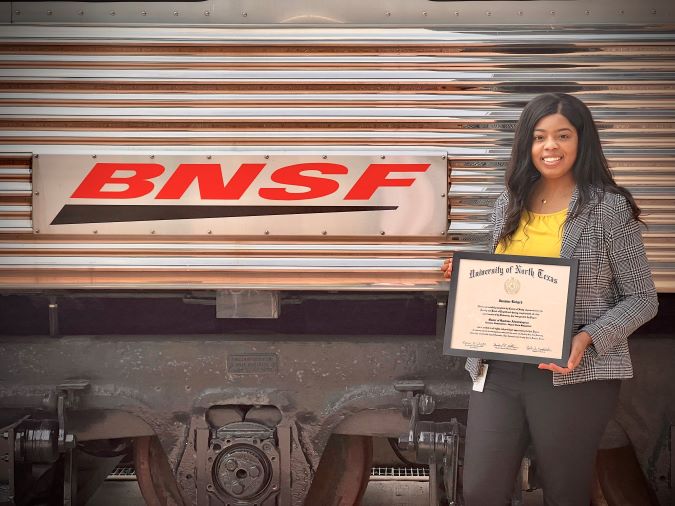 Education is a powerful asset, and we're committed to providing our team with opportunities for professional growth and development. BNSF's Tuition Reimbursement Program supports employees' post-secondary education with reimbursement of expenses at qualifying undergraduate and graduate programs.
We at BNSF celebrate our 40 graduates from 2022 who took advantage of the tuition reimbursement program, and recognize the sacrifices they made to succeed in their work, personal lives and education. A few of our graduates' stories are below.
Jasmine Richard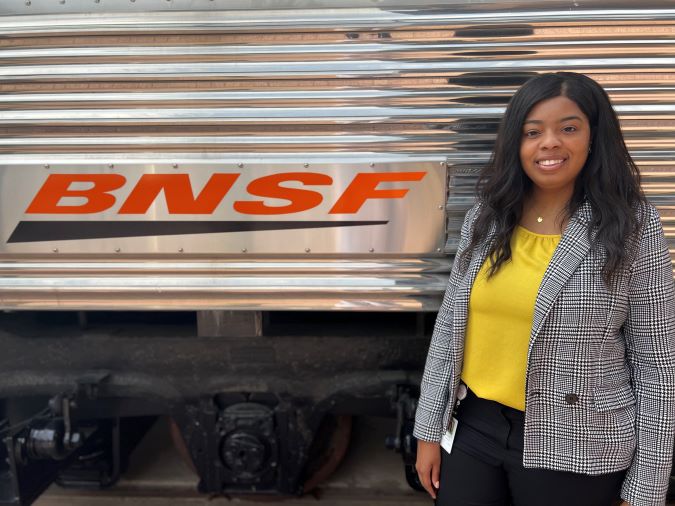 In August 2021, Jasmine Richard enrolled at the University of North Texas to begin her Master of Business Administration with an emphasis in supply chain management, wanting to learn more about the business aspect of BNSF.
Richard began her Tuition Reimbursement Program journey when she worked in an operations role and shortly after starting, she became an auditor. Today, she's a project manager in Strategic Studies. The Tuition Reimbursement Program was an outlet for her to discover new interests and goals related to her career.
"Furthering my education has broadened the path I can take," Richard said. "Through the program, I achieved my MBA and learned about finance, something I hadn't learned a lot about before. I remember saying, 'This is what I want to do.'"
Throughout her journey, Richard felt support at every step. "I had tremendous support from my supervisor," she said. "When working on group projects for school, people would say their companies weren't supportive. I was so grateful that I was working for a company that was supportive and encouraging."
Balancing work, school and a social life can be difficult, but Richard suggests it's a great way to improve time management skills.
"I was so excited to accept my diploma," Richard said. "Don't be discouraged – it gets easier."
Katrina Bucknall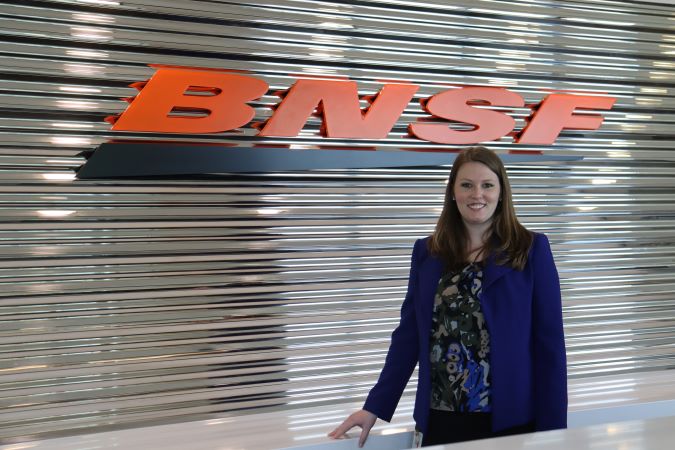 Katrina Bucknall, director HR Information Systems & Workforce Planning, was seeking a graduate program to build upon her undergraduate degree and work experience. In the spring of 2021, Bucknall began working on her Master of Science in Learning and Organizational Development at the University of Texas at Dallas.
Bucknall described the Tuition Reimbursement Program as a great way to further skillsets, both professionally and personally. "I feel the value of the Tuition Reimbursement Program daily," Bucknall said.
She said going back to school was a great opportunity to interact with people who have different experiences in other industries and in various stages of their careers.
To Bucknall, obtaining her degree was worth the effort of balancing school and work. "The feeling of completing the program is amazing, and I'm glad to have done it," she said.
Ryan Holmes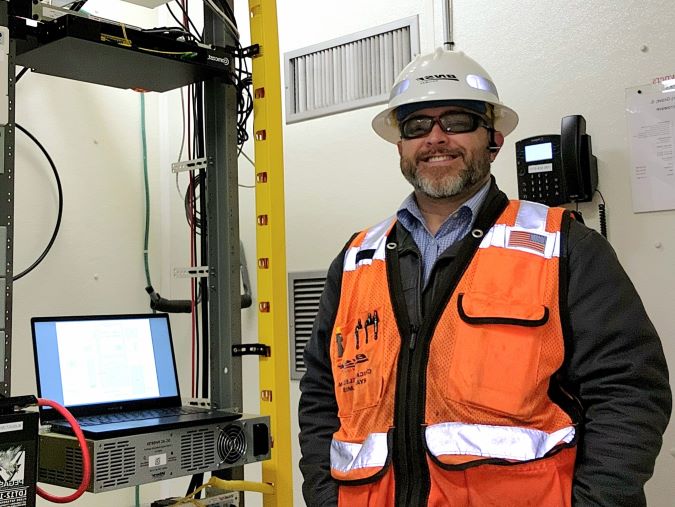 Ryan Holmes, a Telecommunications foreman in Chicago, began his post-secondary educational journey in 2013 at Arizona State University for a Bachelor of Science and Engineering – Electrical Engineering degree. Holmes was admitted to the Tuition Reimbursement Program in 2015.
Holmes found support and a mentor in his supervisor, Tevis Sherman, manager Telecommunications, who supported Holmes' accomplishments and noticed Holmes inspired his coworkers to pursue their education.
"I work with a lot of technology and a lot of engineers, so furthering my education allowed me to understand different levels of business," Holmes said. It also has helped him explain complex topics to others.
Though he recognizes the value of education, Holmes knows the path is often uphill. "Furthering your education is tough," he said. "I gave up weekends and studied for three or four hours a night. It takes dedication but accepting my degree was surreal. A lot of time went into earning it. Don't be afraid to apply to the Tuition Reimbursement Program and talk to your team for support."
Today, Holmes is in the process of applying for his master's in Electrical Engineering and Computers.
Sherman, his supervisor, participated in the Tuition Reimbursement Program himself in 2009, earning a Bachelor of Science in Information Systems Securities through ITT Technical Institute. Now he's pursuing a master's in Project Management at Bellevue University, again using the reimbursement program.
"The Tuition Reimbursement Program allows employees to grow as an individual and as a professional," Sherman explained, encouraging other employees to participate in it. "It helps people get an education to better themselves and help the company. Ryan goes above and beyond. From leadership to technical skills, he has talent all around. It's amazing what he can do."

Jhansi Munagala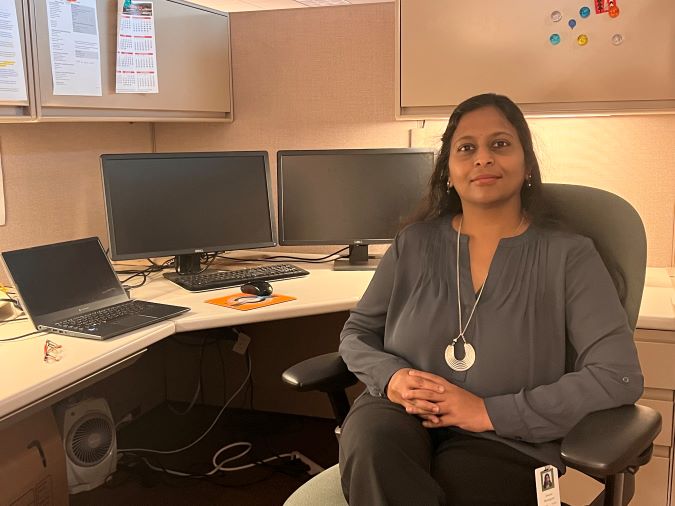 Three years ago, Jhansi Munagala started pursuing her Master of Science in Data Science at Northwestern University. Starting the program to further develop her skills, Munagala learned new aspects of her field, like organization of business intelligence, which has helped her in her current role as manager Safety Systems.
"Learning is a continuous process. We learn every day," Munagala explained. "The Tuition Reimbursement Program allowed me to achieve my dream and continue my education."
When Munagala discussed her desire to pursue her master's degree, she was met with positivity, encouragement and support. Her supervisor had recently completed his master's degree.
"This program is a gift to us," Munagala added. "If you have a question, ask! And if you have a dream, pursue it."
Ryan Medlin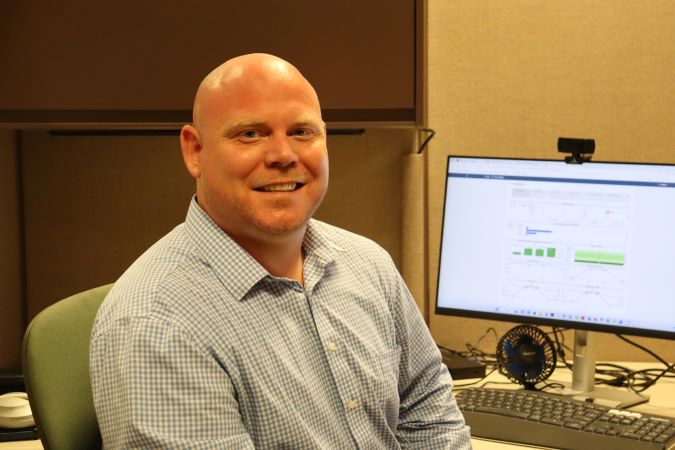 Assistant Division Engineer Ryan Medlin, who works on BNSF's Automated Track Inspection Program, began his BNSF career after serving in the Army for 12 years.
Medlin's first supervisor at BNSF, Tyler Thomas, gave him the inspiration to pursue a college degree. "He saw something in me that I didn't see. He encouraged me to keep growing. I'd never attempted college before. It changed my life, it changed everything, my entire career."
In 2018, Medlin pursued his Bachelor of Science in Organizational Leadership and Project Management through Colorado State University.
Another BNSF supervisor, Will Forbes, told Medlin that to reach his potential, he'd have to make sacrifices. "He made sure to call every week, even if for only 3 minutes, 'How's class? Are you enrolled? How's it going?' And call again the next week, too," Medlin recalled. "If it wasn't for people like him telling me the value of what I was doing, I don't know if I would have made it because there were times I wanted to quit."
For Medlin, achieving his degree was more than a personal accomplishment, it was enlightening. From a family that didn't promote post-secondary education, completing his bachelor's degree was both a milestone and an example for his son.
"When I got my degree, I tried to play it cool, but on the inside, I knew I'd changed my family's path and gave my boys something to aim for," Medlin said. "With the Tuition Reimbursement Program, BNSF paved a path for me as long as I was willing to take the steps to further my education."
Congratulations to all!
BNSF proudly celebrates the 40 graduates from the Tuition Reimbursement class of 2022.