The next adventure for leaders: BNSF's Experienced First Line Supervisor program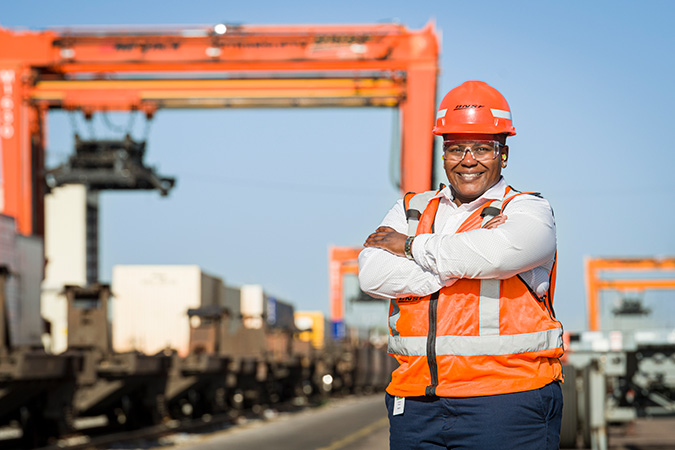 BNSF is a crucial part of our nation's supply chain, and our mission is to safely and efficiently move freight to its destination. Helping to lead our operations are first-line supervisors, some of whom joined us through the Experienced First Line Supervisor (EFLS) program.
For those who like a fast-paced environment, who want to inspire their team while working mostly outdoors, the EFLS program is a perfect fit. The program is designed to attract leaders with three or more years of experience or military veterans with two or more years of experience.
What's most appealing, according to employees in the program, is that the EFLS program allows individuals with leadership experience to make an impact at BNSF as well as the communities we touch, the customers we serve and the national economy.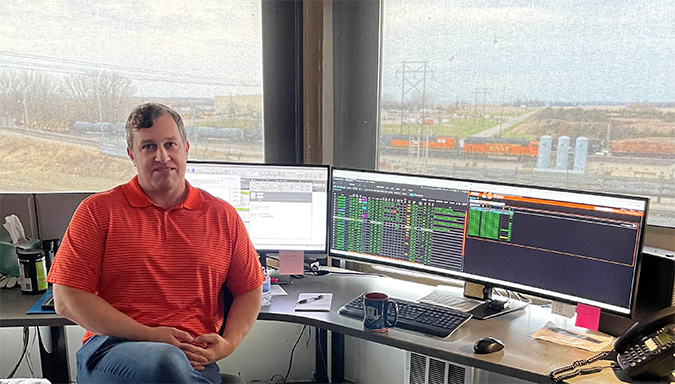 Chad Lawrence
Chad Lawrence joined BNSF in March 2014 as an EFLS, having served in the Army for 12 years. He started in Dilworth, Minnesota, as a trainmaster in the Transportation Department, which is responsible for the makeup and movement of trains in yards and tracks across our network.
"I learned how to be a leader within the Transportation Department and at BNSF as a whole," he explained.
Lawrence is now a terminal superintendent in Galesburg, Illinois. In this role, he oversees about 600 employees in BNSF's second largest "hump yard," a train yard that utilizes a "hump" and gravity to switch railcars and build trains. The Galesburg Yard classifies freight going to Chicago as well as to interchange partners, processing about 2,000 railcars a day.
"EFLS gave me a career at BNSF," Lawrence said, "and the opportunity to work as trainmaster and as a leader."
One of the most unique aspects of the EFLS program is the opportunity to enact change in the company. When Lawrence was a trainmaster, he and his team looked for ways to more efficiently serve Fargo, North Dakota, customers from BNSF's facility in Dilworth, ultimately building a small facility so crews would be able to work directly out of Fargo.
"Really it's relationships—beyond the safety of our team and communities. This job is about taking care of our customers because every car is important to every customer."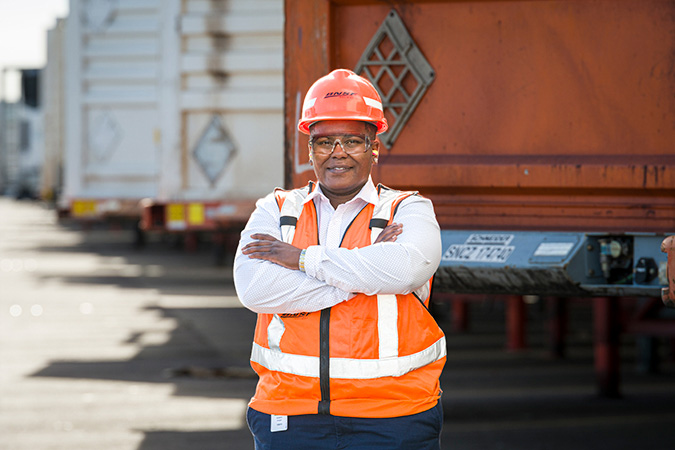 Quilesha Hodges

Quilesha Hodges joined as an EFLS as a foreman in May 2011 after completing a 14-year career in the Navy. She was assigned to our Mechanical shop in Barstow, California, where she led a team of 35 employees responsible for ensuring maintenance and upkeep of our locomotives.
Hodges soon transferred to Transportation and was promoted to a terminal trainmaster position in San Bernardino, California, providing oversight in the planning and execution of terminal operations. Since then she has been a terminal manager and is now assistant superintendent at Phoenix/Glendale/El Mirage, Arizona.
"EFLS has been a great opportunity and experience," she said. "My military career was a huge stepping-stone that instilled determination, versatility, structure and leadership, which made me a great fit at BNSF."
What she enjoys most about her time at BNSF is the ability to lead from the front lines.
"Building strong relationships with service partners, our various operations teams and customers is critical to our success. Everyone wants to win, and when we can clearly see and understand the vision, BNSF will win -- each and every day! I have no regrets, EFLS was the best journey to embark on. The sky is truly the limit," Hodges said.
Robert Podawiltz
After 21 years of service in the Marine Corps as an avionics technician and shop Staff Non-Commissioned Officer in Charge (SNCOIC), Robert Podawiltz joined BNSF as an EFLS in May 2011, starting in Alliance, Nebraska, at the locomotive shop. As a supervisor, he was responsible for taking Federal Railroad Administration (FRA) classes, getting qualified in safety and learning the role of a mechanical foreman.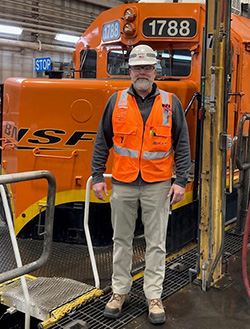 Today, Podawiltz is the shop superintendent in Minneapolis. His day-to-day responsibilities include leading the Northtown diesel shop in the safe, quality, servicing, maintenance and repair of locomotives. He now oversees 250 exempts and employees, including machinists, electricians, sheet metal workers, laborers, boilermakers and clerks.
"EFLS was the gateway for growth at BNSF," Podawiltz said. "It helped me to build and learn locomotive supervisor skills while allowing me to incorporate my military experience."
Podawiltz explained that after leaving the military he did not want a job—he wanted a career. BNSF was just the place for that.
"EFLS was great for my family. I put my kids through college, and BNSF even paid for my college," he added. "There is every opportunity to succeed."
Mike Herzog
Mike Herzog was a part of BNSF's very first EFLS class in the spring of 2004. He started as a project engineer in Engineering in Saginaw, Texas. In this role, Herzog was responsible for working on new construction projections, from concept all the way through servicing.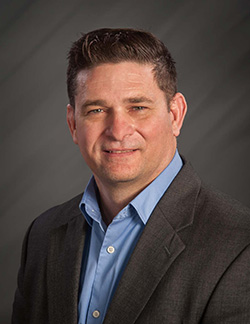 Before joining the EFLS program, Herzog worked 10 years for the Kansas Department of Transportation in civil engineering for highways and bridges. Currently, he is director of Bridge Maintenance for BNSF's South Region.
"I always think of EFLS as a fit for people with proven leadership skills, and BNSF will teach you about the railroad," added Herzog.
Herzog noted that a memorable part of his time in the EFLS program was taking a trip across BNSF's transcontinental network from Kansas City to the Port of Long Beach, California, riding in the lead locomotive and interacting with crews.
"I still think of those individuals today," he said. "Getting a feel for what our train crews contend with helps set a frame of mind from a corporate perspective. This industry is all about relationships and effective communication."
Omar Shakoor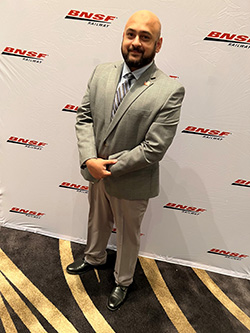 Manager Sales Omar Shakoor of our Industrial Products team began his BNSF journey in October of 2012 as part of the EFLS program after six years of service in the military. His introduction to the company was different from his peers. BNSF had hired him that summer, but there was a delay in his release from the Army. BNSF held his position in the EFLS program, but every existing EFLS class had already passed. Shakoor was placed alongside the next group of corporate Management Trainees—a practice now done intentionally with today's EFLS and Management Trainee cohorts.
Shakoor's experience in the Army eased his transition to BNSF. In his current role, abilities for conflict resolution, process improvement, and leadership are important. He's the first point of contact for the BNSF customers he manages in his portfolio. Shakoor is a proud member of several BNSF business resource groups and is the chair of BNSF's Asian Pacific Islander Network.
"BNSF is mission-driven, which is an attribute instilled in every soldier," Shakoor said.
His most valuable experience from the EFLS program was the opportunity for personal and professional growth and leadership development.
"Someone who has the ingredients to be a phenomenal leader and enters a department or field they are unfamiliar with, they transition and learn and become successful," he said. "This chance is rare in the workforce today. The BNSF EFLS Program provides that amazing opportunity."
The Program
Our EFLS program is designed for experienced leaders with three years of experience or two years of military experience. The program provides six months of immersive training for the activities EFLS employees will oversee in the Engineering, Mechanical, Signal or Transportation departments.
EFLS employees join the company in groups called cohorts. BNSF now combines EFLS and Management Trainee cohort start dates. Start dates are usually in January, February, June, July and September. For more information about EFLS, visit our careers webpage.