BNSF employee builds homes and hope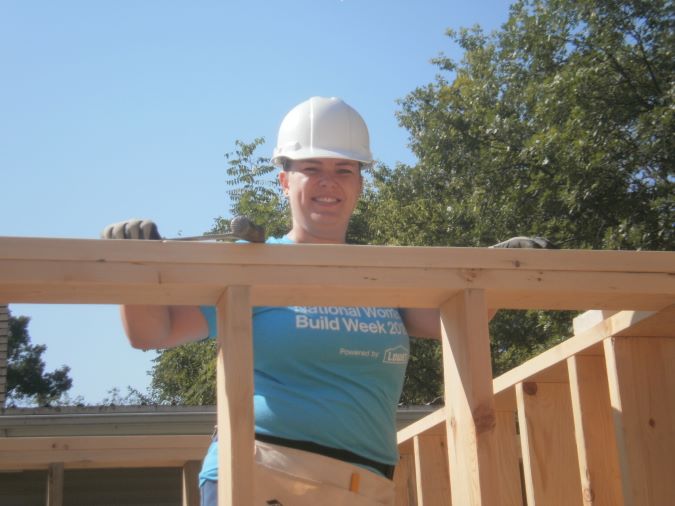 Megan Butenas, a BNSF clerk in Dilworth, Minnesota, is raising awareness about and volunteering for Habitat for Humanity – whose mission is bringing people together to build homes, communities and hope. She is one of many BNSF team members making a positive impact in communities where they live and work.
"Habitat for Humanity has given me another voice and a new audience to impact," Butenas explained. "Everyone needs a place to live."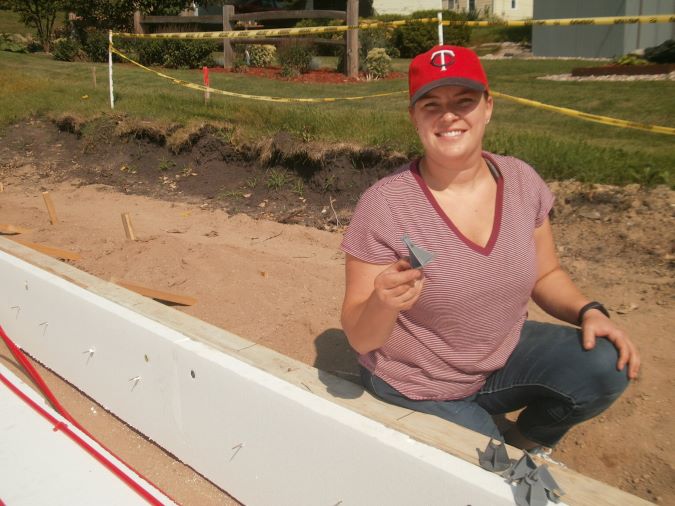 Butenas' journey with Habitat began in 2018, before she joined BNSF, when she applied for the organization's affordable housing while she was a single mom, going to school and working a full-time job.
"My affiliation started with me putting in the required 'sweat equity' and working on the build site of my own house," Butenas said. "After this life-changing event, I wanted to keep supporting them as best I could, and I continued that by doing videos for our local affiliate and assisting on other job sites."
Habitat for Humanity works with families, local communities, volunteers and partners from around the world so that more people can live in affordable and safe homes. The organization's advocacy efforts focus on policy reform to remove systemic barriers preventing low-income and historically underserved families from accessing adequate, affordable shelter.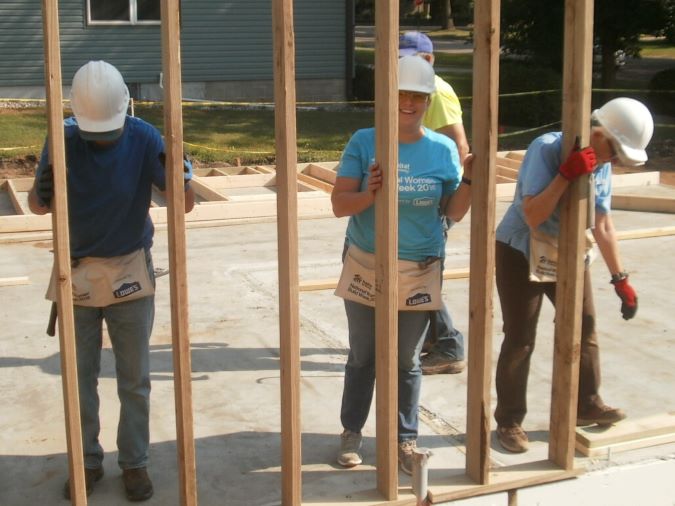 "Their mission is to create affordable housing, so they look for efficiencies to lower the costs," Butenas added. "In my situation, they got an energy-efficient grant that brought down my purchase price to where it would be affordable."
Within a year, Butenas' new home was completed. From that point, her commitment to Habitat for Humanity was galvanized.
"I understand Habitat for Humanity from both sides: recipient and volunteer. Volunteering is rewarding and hard to put into words. You get to watch families become homeowners, and I know how good that feels," Butenas said.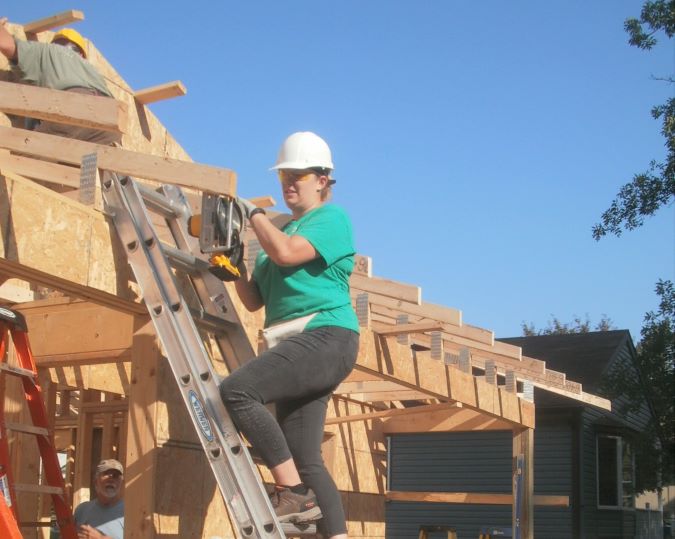 From constructing homes to providing meals to writing grants, there's opportunity for everyone to get involved.
"It's difficult to find regular volunteers because there's a misconception of using big tools and people can be afraid of the unknown. They don't know if they'll be able to do anything with their skill set," Butenas said. "But there really is a place for everyone, big and small and all skill levels."
From Butenas' experience with BNSF, she was able to apply safety skills to her volunteering. "We do safety briefings at BNSF, and so does Habitat," Butenas explained. "I have been able to guide from a safety briefing perspective."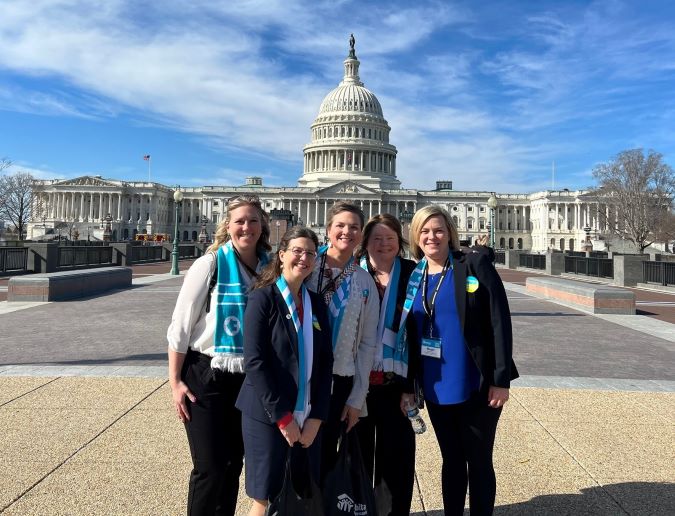 In 2022, the local Habitat for Humanity organization asked Butenas to join its board to provide a homeowner's perspective. After serving on the board and joining the public relations subcommittee, she was asked personally by the Habitat Minnesota CEO to join them in Washington, D.C., for their annual legislative conference, Habitat on the Hill.
"There were about 375 people from 42 states and territories that attended, and out of all the attendees, there were only 12 homeowners," Butenas said. "Most of the participants were employees of their local affiliate."
Butenas brought unique insight to Habitat's advocacy efforts by representing the voices of homeowners and was able to advocate for those struggling with housing needs as she knows firsthand the challenges in finding safe and affordable homes. She also writes grants on behalf of Habitat in her local community.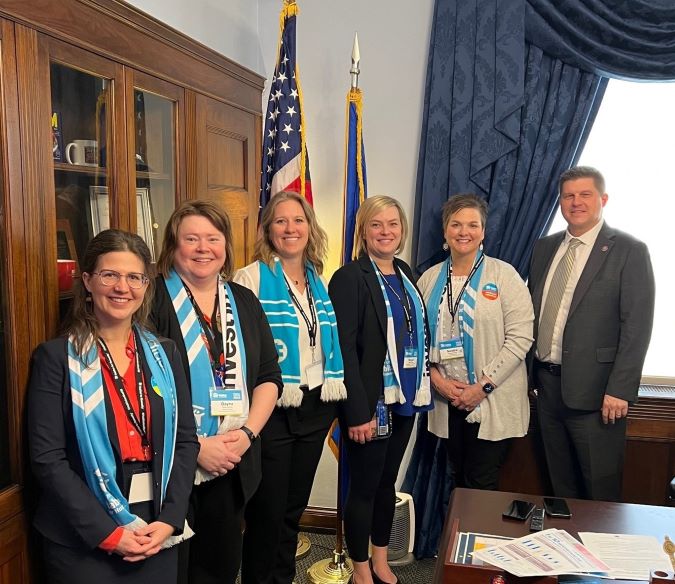 "The biggest takeaway from this experience is that affordable housing is a universal need, and no one individual can change it, but if we all just keep talking about it, we can keep this problem at the forefront," Butenas explained. "Volunteering and advocating are the most rewarding things."
We thank Butenas for bringing more attention and resources to this organization and appreciate team members like her who are amplifying the voices of those in need.
If you are interested in getting involved with a local Habitat for Humanity crew, Butenas advises to check out the organization's social media. There, you can see volunteer activity and learn about events and opportunities to get involved, or simply visit their website.