Rising stars: Celebrating BNSF's intern class of 2023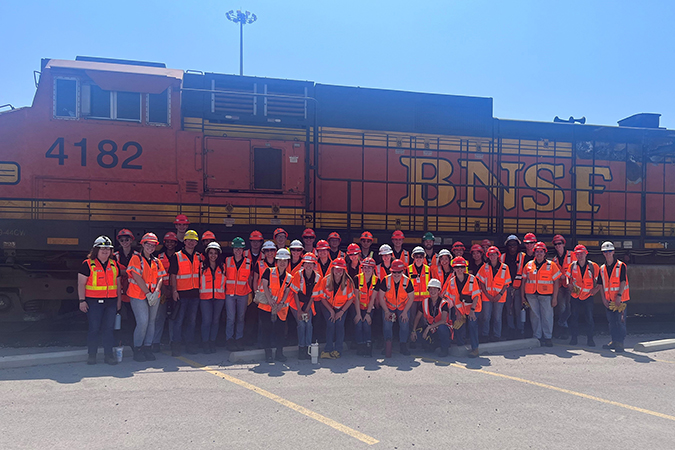 At BNSF, we understand the importance of nurturing and empowering the next generation of talent. That's why National Intern Day holds a special place in our hearts as we recognize the impact this year's class of 93 summer interns have had on our organization.
These bright individuals bring a wealth of knowledge and unique perspectives to our team, infusing our company with their energy, curiosity, and fresh ideas.
So, in honor of National Intern Day – July 27 – let's meet just a few members of this exceptional class.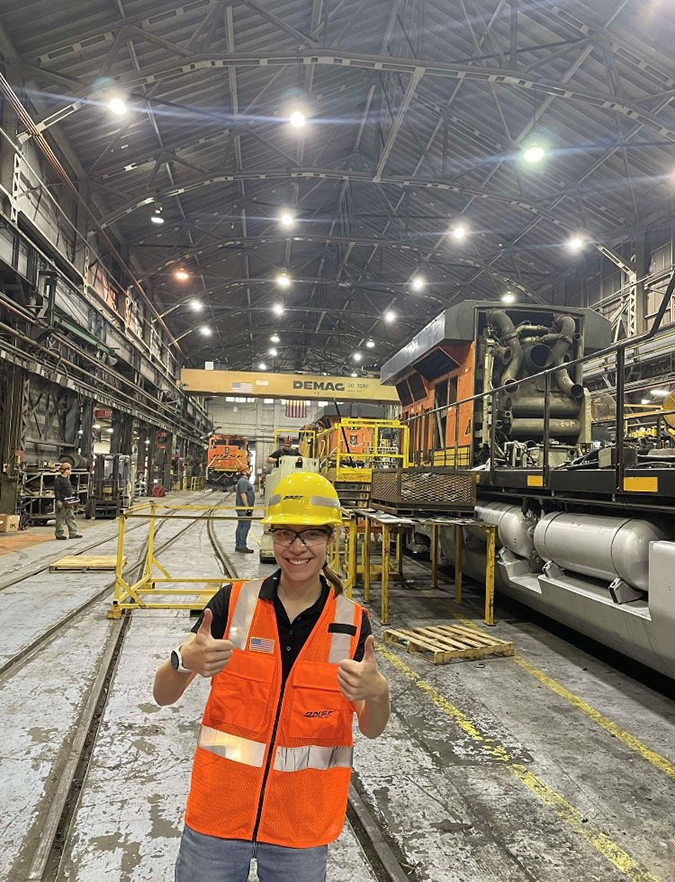 Ellie Mommessin, Mechanical Department
Ellie Mommessin, a senior at Baylor University, was looking for a large company with a structured internship program that would allow her to work on real-world projects as part of a team.
As a Mechanical Department intern at BNSF, Mommessin aspires to contribute to day-to-day operations in engineering. The BNSF internship has played an essential role in shaping her career aspirations.
"In my role on the Condition Based Maintenance team, I've been able to see firsthand how technology is used to improve safety and reliability on the railroad," Mommessin said. "In my future career as a mechanical engineer, I'd like to support day-to-day operations. My internship at BNSF has given me the opportunity to learn about all aspects of the industry. It's shown me how I can apply my engineering degree at work in a variety of ways."
Railey Aragon, Corporate Audit
Railey Aragon's story starts with growing up in a railroad-influenced household and the sponsorship of Texas Christian University's career center. These two factors sparked her interest in the railroad industry, which led her to BNSF for her internship. She is a senior at TCU studying economics with a minor in accounting and international relations, and an intern with BNSF in Corporate Audit.
"The scope of the day-to-day business revealed itself to be more complex than I originally imagined," Aragon said. "There are so many aspects of the company that work together to support the entire system. Being able to better understand these connections and their impacts on the economy led to a valuable shift in perspective."
Aragon's goal for her career is to be a valuable member of a team that has an impact on the greater economy. "My experiences with BNSF are preparing me for this through teamwork, learning how to ask questions and focusing on the overall goal of a project. These skills are versatile and will follow me throughout my career," Aragon said. "BNSF's focus on employee development will prepare me for any career path I choose to pursue."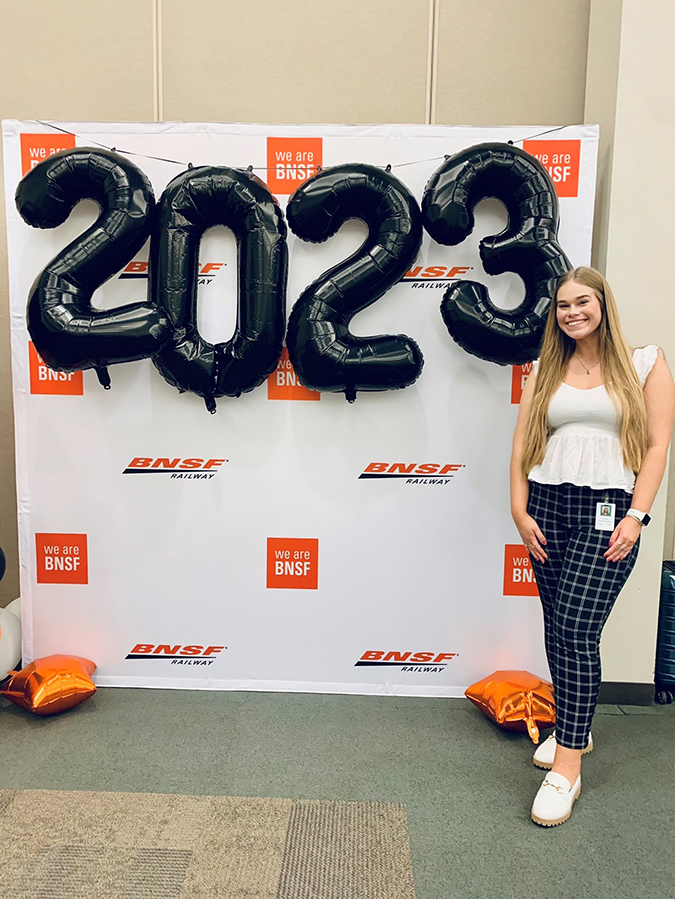 Kellie Schwendiman, Human Resources
Kellie Schwendiman is a senior at Texas Tech University majoring in management with a concentration in human resources and a minor in English. At BNSF, she found everything she was looking for in an internship program.
"From a hands-on project experience to learning about a crucial industry, I knew BNSF would provide development opportunities that I would not find elsewhere," she said.
"Throughout my projects at BNSF, I have been lucky enough to work with our college recruiting, compensation and benefits and talent management team, specifically the Diversity & Inclusion (D&I) team."
One of the most striking things Schwendiman discovered during her internship was how the company embodies a strong family culture.
"No matter the department or title, every BNSF team member I have met has a smile on their face and is eager and willing to teach you something new. The team members here rise above, and it is evident as a newcomer."
Schwendiman added, "I appreciate BNSF's support in learning how to solve a complex issue or developing my leadership skills to truly model the way."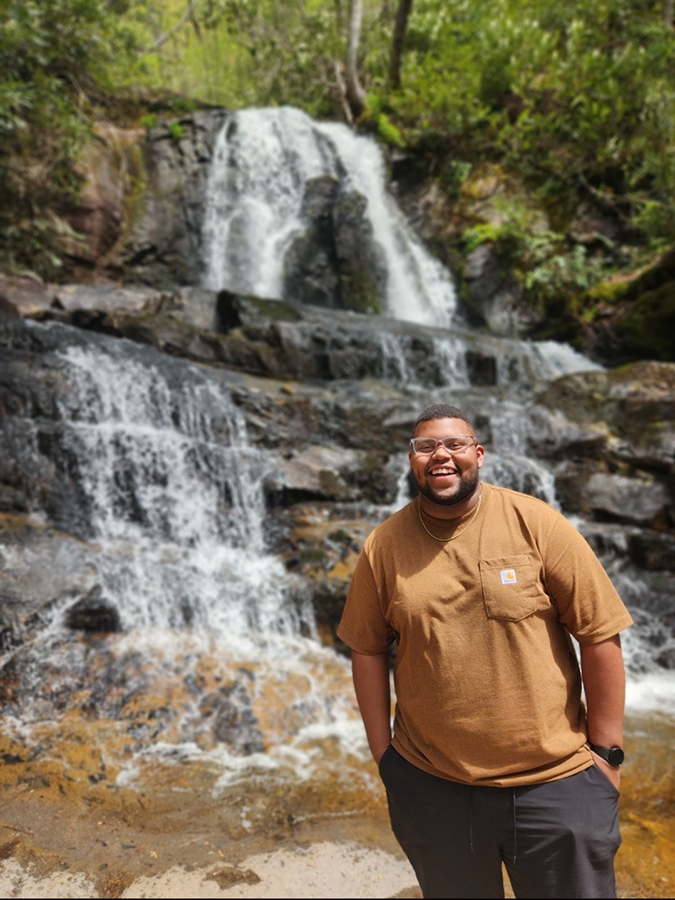 Josiah Karriem, Mechanical
Josiah Karriem, a senior majoring in mechanical engineering technology at the University of Toledo, came to BNSF for the summer because he wanted to learn more about the railroad industry.
"I really like the culture of BNSF, and the environment that it creates. This makes it easy for everyone to work together to achieve the company goals," Karriem said.
"I want to continue to gain valuable skills in the field, and work alongside others that enjoy what they do and hold themselves to a higher standard. I have learned so much during my internship and I hope to apply these skills and experiences to help me grow throughout my career."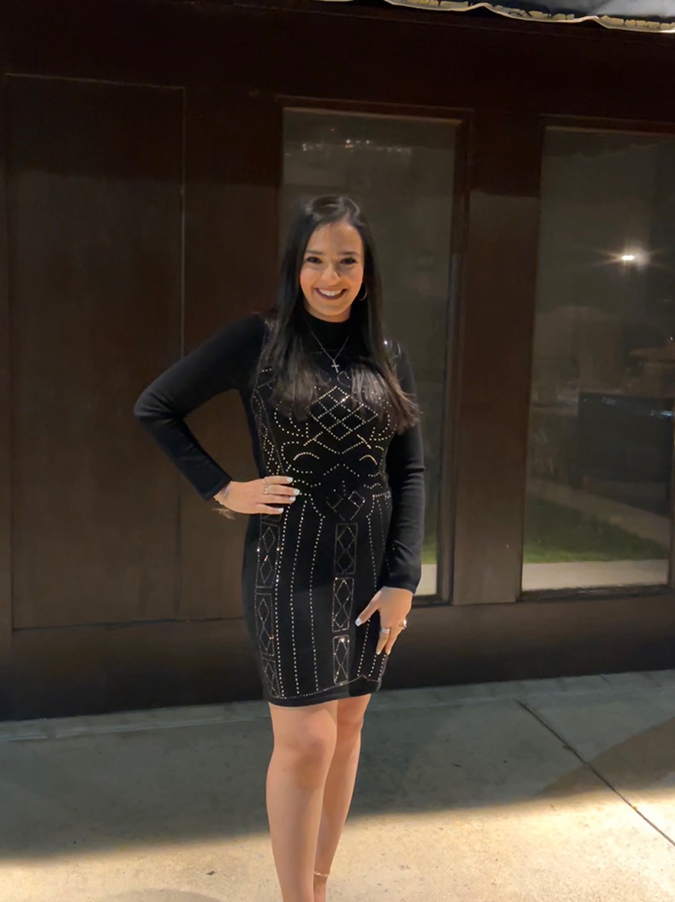 Nora Hanna, Engineering
Nora Hanna, a junior computer science major at the University of Texas at Dallas, embarked on an unforgettable journey as an intern at BNSF this summer.
"I was confident that an internship at BNSF would enable me to gain valuable industry experience through various interesting and impactful projects. I also saw it as an opportunity to gain an understanding of the importance of computer science and data science in the railroad industry," Hanna said.
During her internship, Hanna worked on the Movement Planner team in the Engineering Department. "I am impressed with how advanced the technology is as well as the remarkable and inspiring goals the company has set. I have met some truly amazing people who make this organization so special," Hanna said.
"I am grateful for the experience I gained, and I am also grateful for all the wonderful people I have met at BNSF that have provided me with invaluable guidance, mentorship, wisdom and friendship."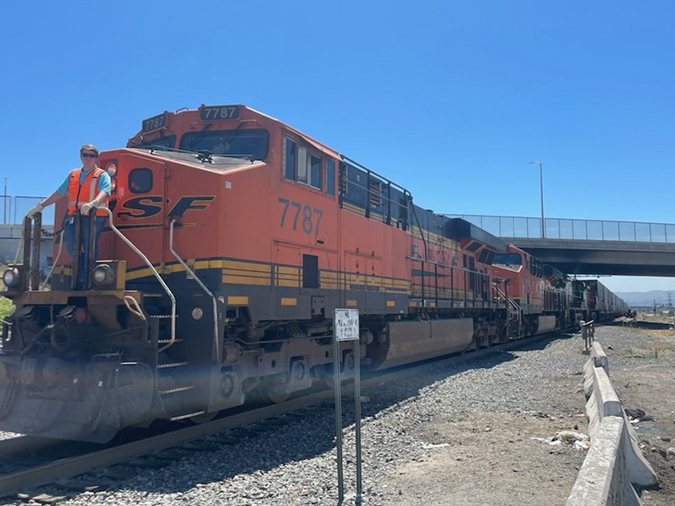 Jack Duffy, Transportation
Jack Duffy, a junior at Ohio State University majoring in air transportation and national security and intelligence, always had a great interest in trains and transportation. Growing up near BNSF's Cicero Intermodal facility, Duffy had always been fascinated by rail operations.
"I was impressed with how open and friendly everyone was. Railroading is an industry with a wide range of traditions and a storied history. Everyone I have met from the craft team members to terminal and division management have been so gracious and are always willing to help me learn," Duffy said.
"I would like to work in the industry, and I hope to continue with BNSF as a management trainee in the transportation department. This internship has helped me confirm my career interests and it also gave me a great introduction into how a railroad operates."
Esmeralda Canales Salas, Technology Services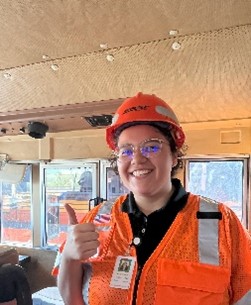 Esmeralda Canales Salas, a senior majoring in business information systems with a minor in Spanish at Texas Christian University, has been interested in BNSF since high school, when she took an excursion to the BNSF headquarters.
"The trip was one of my first glimpses into the corporate world and the impression BNSF left on me was a great one. Everyone I met that day was kind and genuinely interested in the plans all of us students had for the future. With BNSF, I knew I would not only have a great on-the-job learning experience, but that I would also be surrounded by an encouraging and intelligent group of people," Canales Salas said.
A big takeaway from the internship for Canales Salas was the crucial role BNSF plays in moving the nation's freight. "I was also surprised to see how technologically advanced BNSF is," she said. "Whether it be from tracking the damage done to railways to developing custom applications for better operations in all departmental regards, it's exciting to be a part of a company that is always innovating."
Canales Salas wants a career in which her work has a direct, positive effect on people and society.
"The work done at BNSF directly impacts individuals and the country, in addition to promoting the growth of team members by making role change opportunities easily accessible to all."
BNSF is proud to offer our summer interns a supportive environment where these driven individuals can thrive, gain hands-on experience, and contribute to meaningful projects. National Intern Day serves as a reminder of our commitment to foster growth and provide opportunities for aspiring professionals to flourish in their chosen fields. Thank you for a great summer, BNSF 2023 interns!